Estas son las novedades de abril relacionadas con Conan presentadas por Marvel Comics esta semana.
CONAN THE BARBARIAN #5
JASON AARON (W) • MAHMUD ASRAR (A)
Cover by ESAD RIBIC
Variant Cover by GABRIEL HERNANDEZ WALTA
ASGARDIAN VARIANT COVER BY TBA
SET SAIL ON A SHIP OF THE DEAD!
• CONAN leaves the land for the life of a pirate!
• How did he survive disaster during the most ominous voyage of his life on a ship surrounded by dead men?
• And the CRIMSON WITCH's dark plans for KING CONAN become grimly clear!
• PLUS: The fifth chapter in the ALL-NEW Conan novella "BLACK STARLIGHT," begun in issue #1 of CONAN THE BARBARIAN!
32 PGS./Parental Advisory …$3.99
AGE OF CONAN:BÊLIT, QUEEN OF THE BLACK COAST #2 (OF 5)
TINI HOWARD (W) • KATE NIEMCZYK (A) • Cover by SANA TAKEDA
Variant Cover by REBEKAH ISAACS
FIRST BLOOD ON THE HIGH SEAS!
• BÊLIT finds her first battle at sea!
• But will her impetuous nature lead the crew to victory, or sink her ambitions before they've begun?
• Either way, CAPTAIN SATURNINUS will need a new ship!
• PLUS: The next chapter in the all-new BÊLIT prose novella!
32 PGS./Parental Advisory …$3.99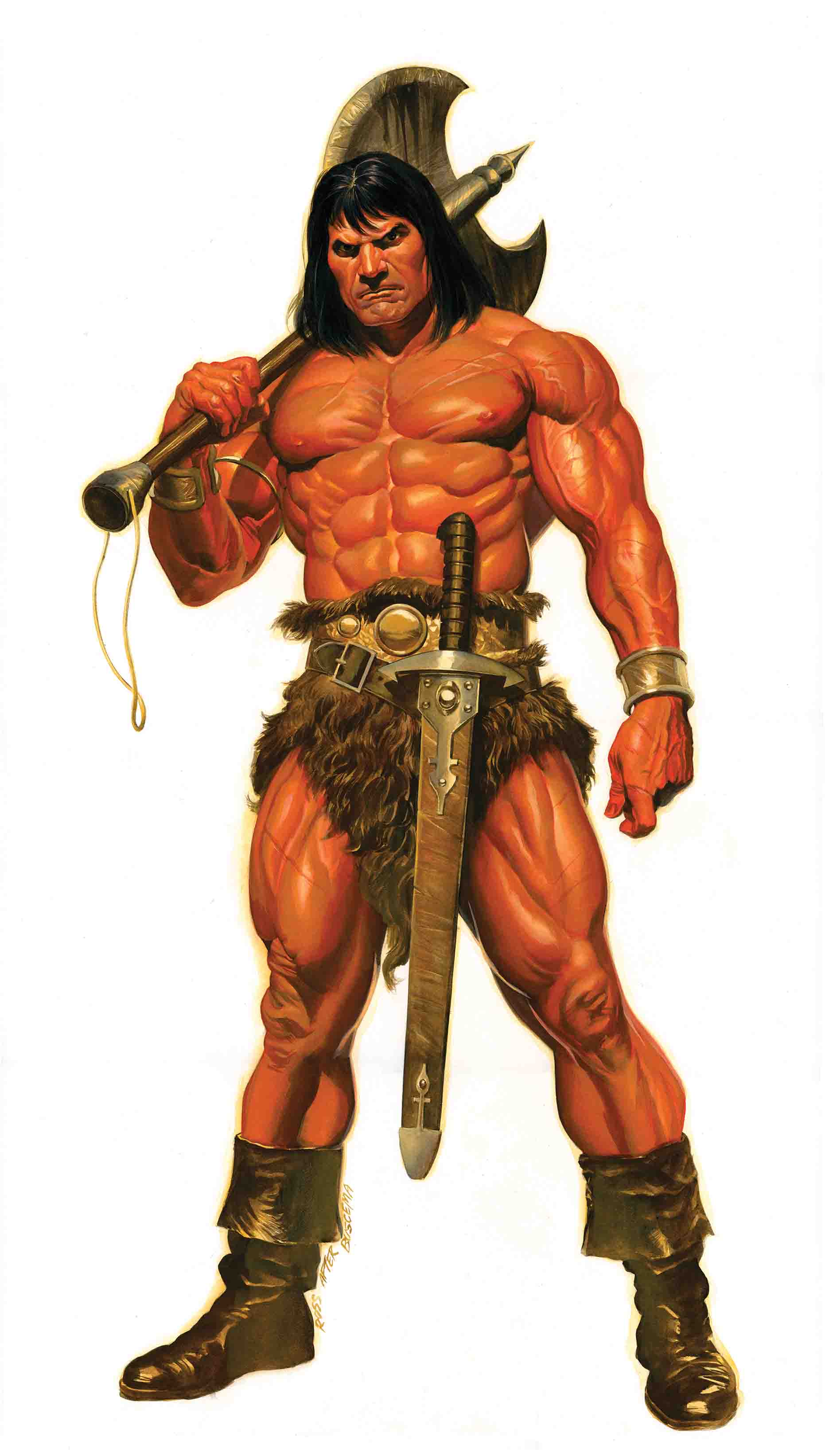 SAVAGE SWORD OF CONAN #4
GERRY DUGGAN (W) • RON GARNEY (A) • Cover by ALEX ROSS
Variant Cover by ADI GRANOV
THE BATTLE FOR STYGIA!
• CONAN descends into a hidden labyrinth protected by an undead army and does battle with the forces of KOGA THUN!
• At stake — the fate of Stygia!
• Conan's friend SUTY begins a shocking transformation as he discovers what MENES has been hiding about the mysterious treasure they've been hunting…
• PLUS: The next chapter in the all-new CONAN novella "THE SHADOW OF VENGEANCE", begun in issue #1 of SAVAGE SWORD!
32 PGS./Parental Advisory …$3.99
THE MARVEL ART OF CONAN THE BARBARIAN HC
Written by JOHN RHETT THOMAS
Penciled by VARIOUS
Cover by BARRY WINDSOR-SMITH
The Hyborian Age meets the Marvel Age in this stunning gallery of classic Conan comic art! The Cimmerian warrior made his comics mark at Marvel, and would hack and slash his way through three decades of phenomenal full-color storytelling in Conan the Barbarian and its many sister comics. This hardcover highlights the very best covers, pages and pinups from legendary titles such as Conan the Barbarian, Giant-Size Conan, King Conan and more — from the seminal masterworks of Barry Windsor-Smith, to stunning interpretations by Gil Kane and Neal Adams, to a character-defining legacy by John Buscema, to gorgeous latter-day illustrations by Silvestri, Kaluta, Mignola and more! As Conan makes his highly anticipated return to the House of Ideas in 2019, immerse yourself in the vibrant and vivid world of Conan the Barbarian, and experience sensational sword-and-sorcery sagas in the Mighty Marvel Manner!
224 PGS./Rating: Parental Advisory for strong language and content …$50.00
ISBN: 978-1-302-91766-1
Trim size: oversized
Conan ® & © 2019 Conan Properties International LLC

Periodista especializado en cómic, actualmente ejerzo de editor de la web oficial de la editorial Panini Comics en España. Además soy profesor universitario, en el Grado de Comunicación Audiovisual de la Universitat de València, donde imparto la asignatura "Teoría del Cómic: Géneros y tendencias"; también imparto clases en varios módulos de los Ciclos Formativos de Imagen y Sonido.