A continuación tenéis las novedades que Marvel ha anunciado cuya distribución está prevista para el próximo mes de julio. En esta entrada están los tomos Marvel: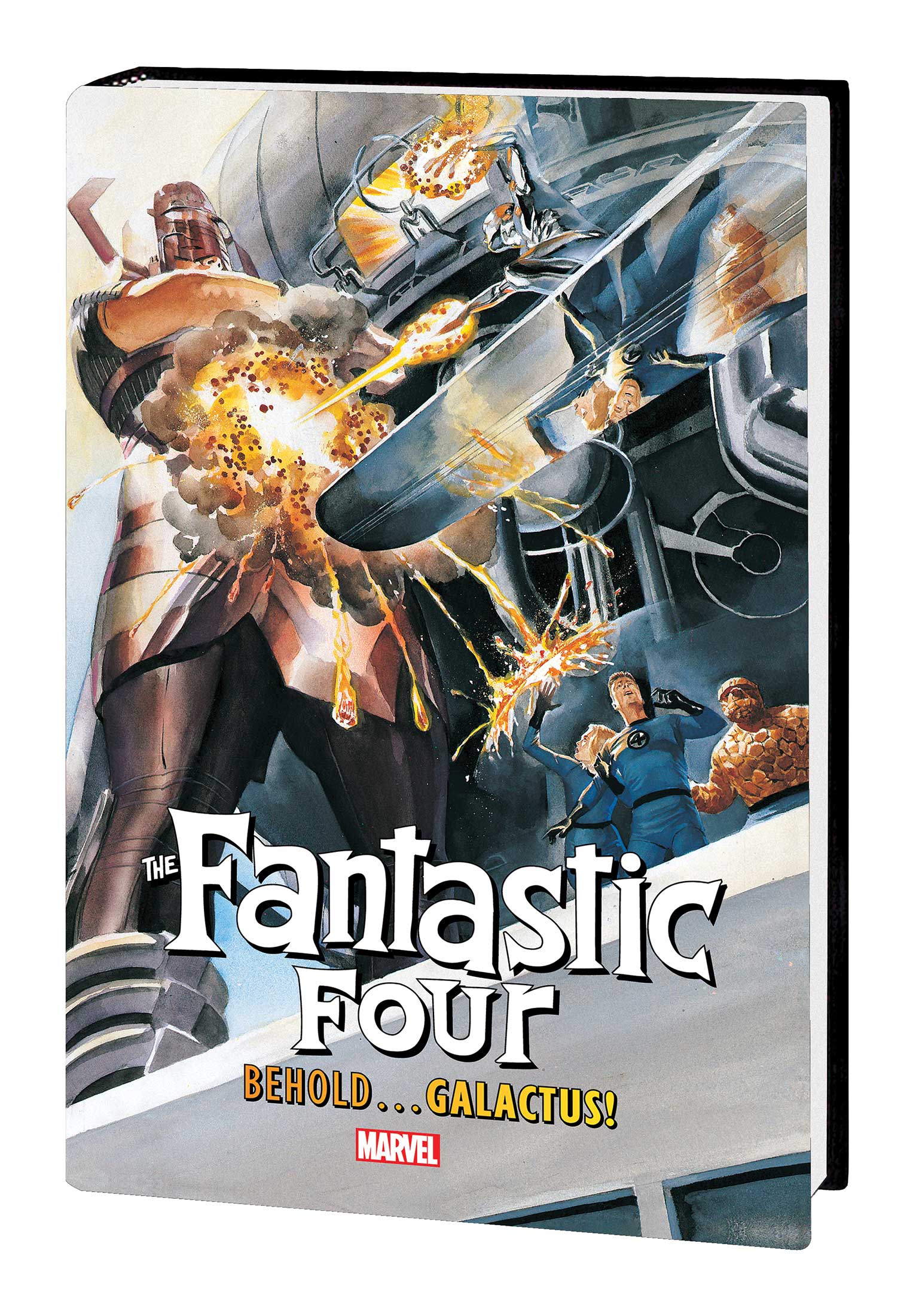 FANTASTIC FOUR: BEHOLD…GALACTUS! MARVEL SELECT HC
Written by STAN LEE & JOHN BYRNE
Penciled by JACK KIRBY, JOHN BUSCEMA & JOHN BYRNE
Cover by ALEX ROSS
ON SALE OCTOBER 2019
Continuing the series of graphic novels handpicked by Marvel Editorial to showcase pivotal storylines written and drawn by some of Marvel's most acclaimed creators! Three of the greatest Galactus stories of all — by a fantastic foursome of comic-book titans! First, Stan Lee and Jack Kirby introduce the World-Eater and his enigmatic herald, the Silver Surfer, as the Fantastic Four stand in defense of Earth in one of the most beloved sagas ever told! Next, John Buscema's powerful pencils illustrate the arrival of new herald Gabriel the Air-Walker, signaling doom for the human race! Then, John Byrne takes over as Terrax leads the Devourer back to Earth — and the entire Marvel Universe pitches in to help save the planet from becoming his next meal! The FF plus the big G spells cosmic action in the Mighty Marvel Manner! Collecting FANTASTIC FOUR (1961) #48-50, #120-123 and #242-244.
232 PGS./Rated T …$24.99
ISBN: 978-1-302-91887-3
Trim size: standard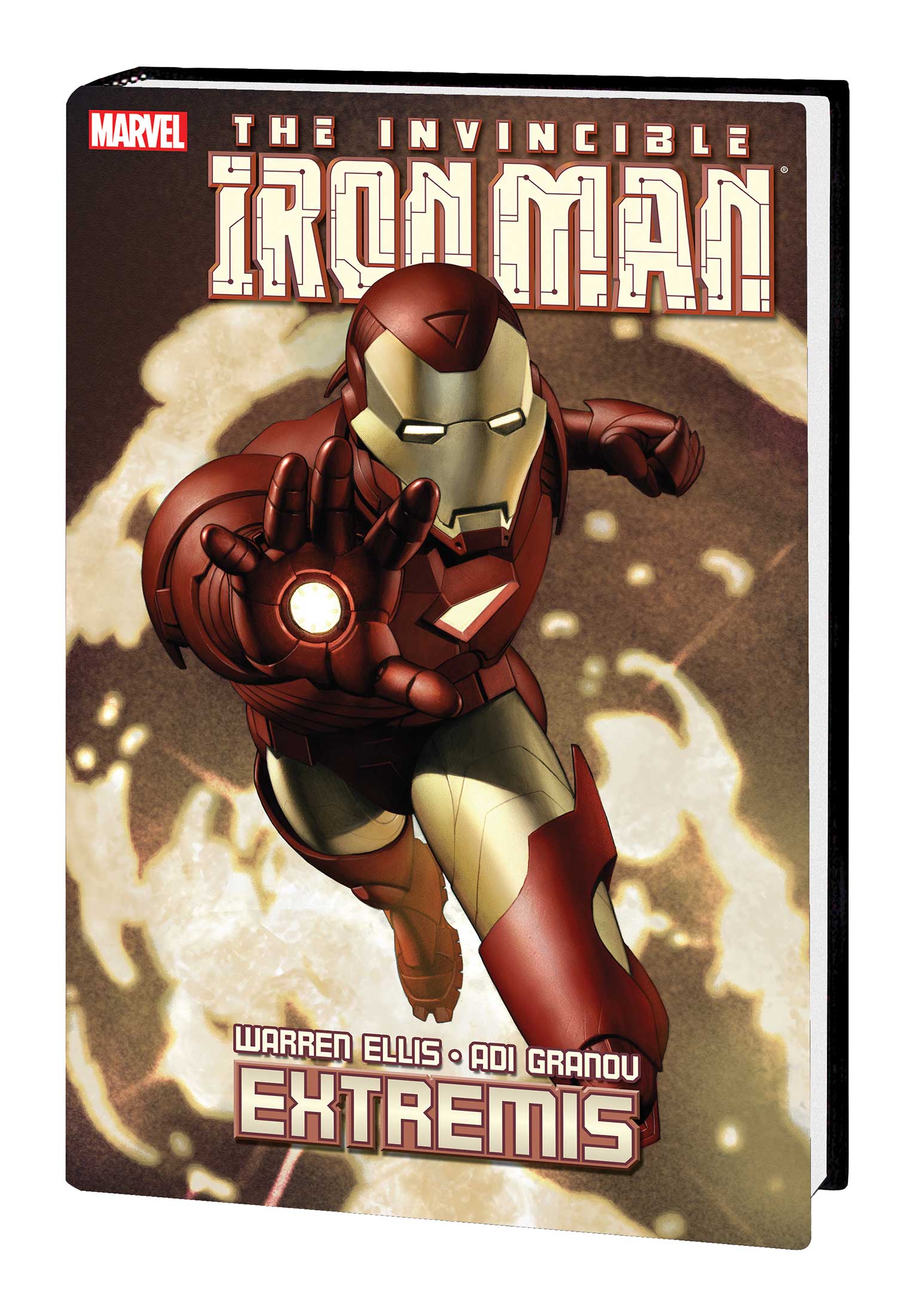 IRON MAN: EXTREMIS MARVEL SELECT HC
Written by WARREN ELLIS
Penciled by ADI GRANOV
Cover by ADI GRANOV
ON SALE NOVEMBER 2019
Continuing the series of graphic novels handpicked by Marvel Editorial to showcase pivotal storylines written and drawn by some of Marvel's most acclaimed creators! It's the beginning of a new era for Iron Man! Renowned scribe Warren Ellis joins forces with acclaimed illustrator Adi Granov to redefine the Armored Avenger's world for the 21st century — a landscape of terrifying new technologies that threaten to overwhelm a fragile mankind! What is Extremis? Who has unleashed it? What does its emergence portend for the world? And how will it change Iron Man's life?! Collecting IRON MAN (2004) #1-6.
160 PGS./Rated T+ …$24.99
ISBN: 978-1-302-91890-3
Trim size: standard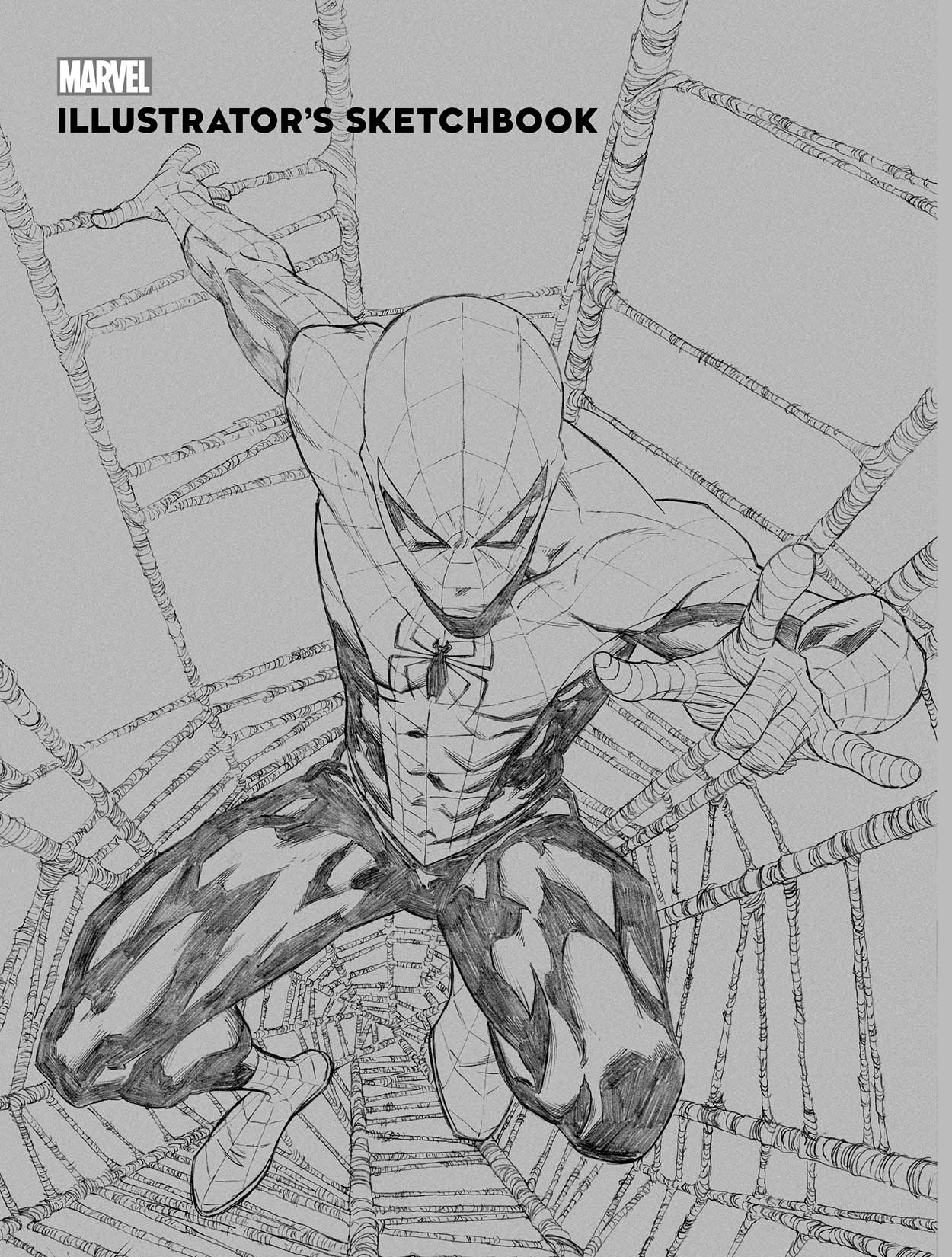 MARVEL ILLUSTRATOR'S SKETCHBOOK TPB
Written by JESS HARROLD
Cover by JOE QUESADA
Practice how to draw comics the Marvel way with this dedicated sketchbook that takes you through all the key stages in the creative process! With advice from the pros on every step — character designs, layouts, pencils, inks, colors and covers — it's exactly what you need to help develop your skills as an illustrator! Take a Journey into Artistry with this first-of-its-kind sketchbook from the House of Ideas! And with lots of hard work and practice, one day you too can Make Yours Marvel! Featuring lay-flat binding and over 30% instructional pages!
168 PGS./All Ages …$19.99
ISBN: 978-1-302-91940-5
Trim size: 6 x 8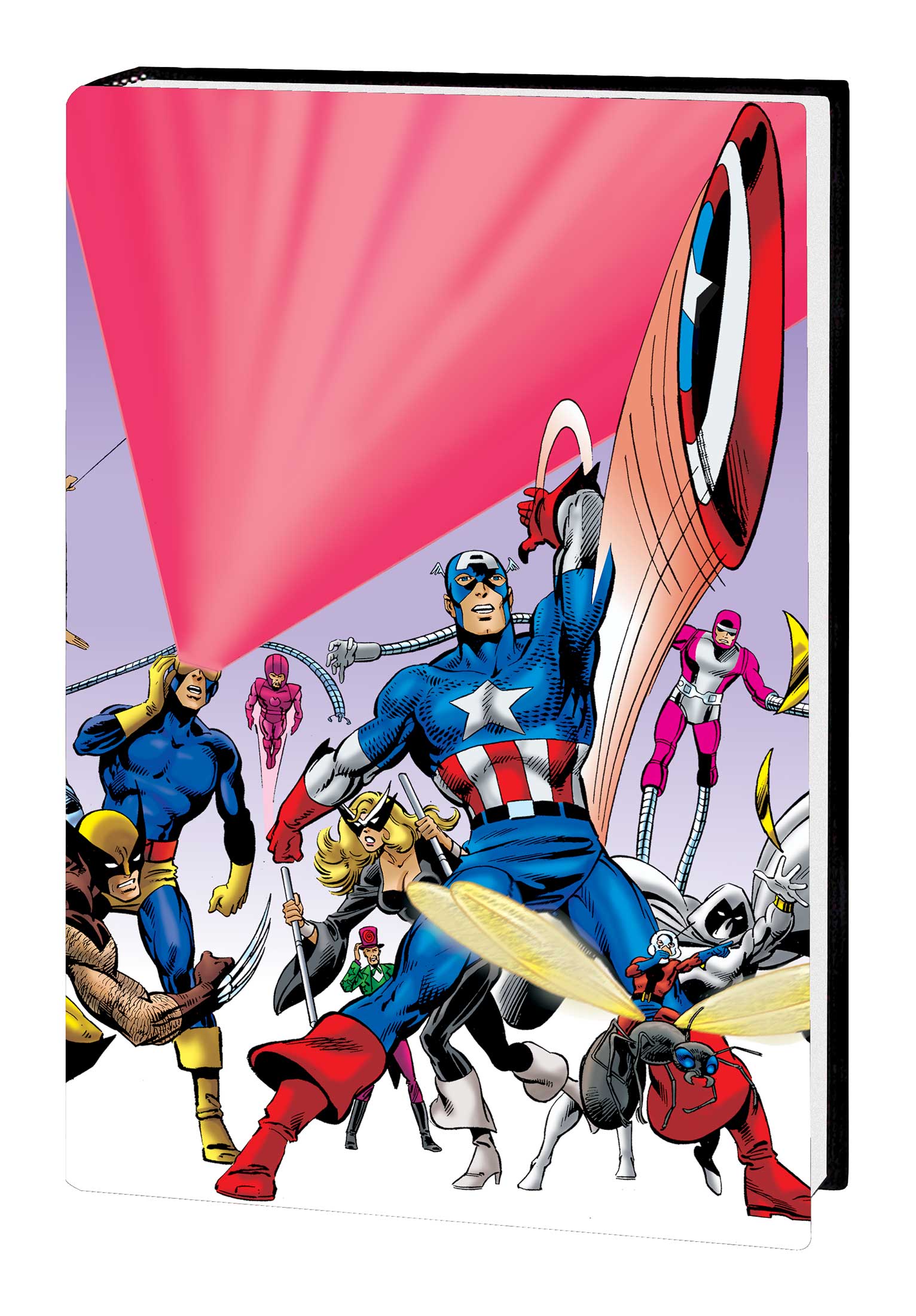 OFFICIAL HANDBOOK OF THE MARVEL UNIVERSE OMNIBUS HC
Written by MARK GRUENWALD, PETER SANDERSON, MARK LERER, TOM DEFALCO, ELIOT R. BROWN & MORE
Penciled by VARIOUS
Cover by JOHN BYRNE
The original OFFICIAL HANDBOOK OF THE MARVEL UNIVERSE is collected in a single hardcover for the very first time! It's the fact-filled series that put the entire Marvel Universe into the hands of wide-eyed fans of the 1980s! The OHOTMU featured stunning original art from some of the era's biggest names and in-depth profiles of Marvel's greatest heroes and villains — from Abomination to Zzzax and pretty much everyone who was anyone (at the time) in between! Plus: A lengthy section devoted to then-dead and inactive characters — and a whole book of diagrams detailing Marvel's most iconic weapons, hardware and paraphernalia! With origins, team affiliations, super-power assessments and other vital statistics, this is the ultimate reference tome for the first four decades of Marvel history! Collecting OFFICIAL HANDBOOK OF THE MARVEL UNIVERSE (1983) #1-15.
576 PGS./Rated T …$75.00
ISBN: 978-1-302-92060-9
Trim size: oversized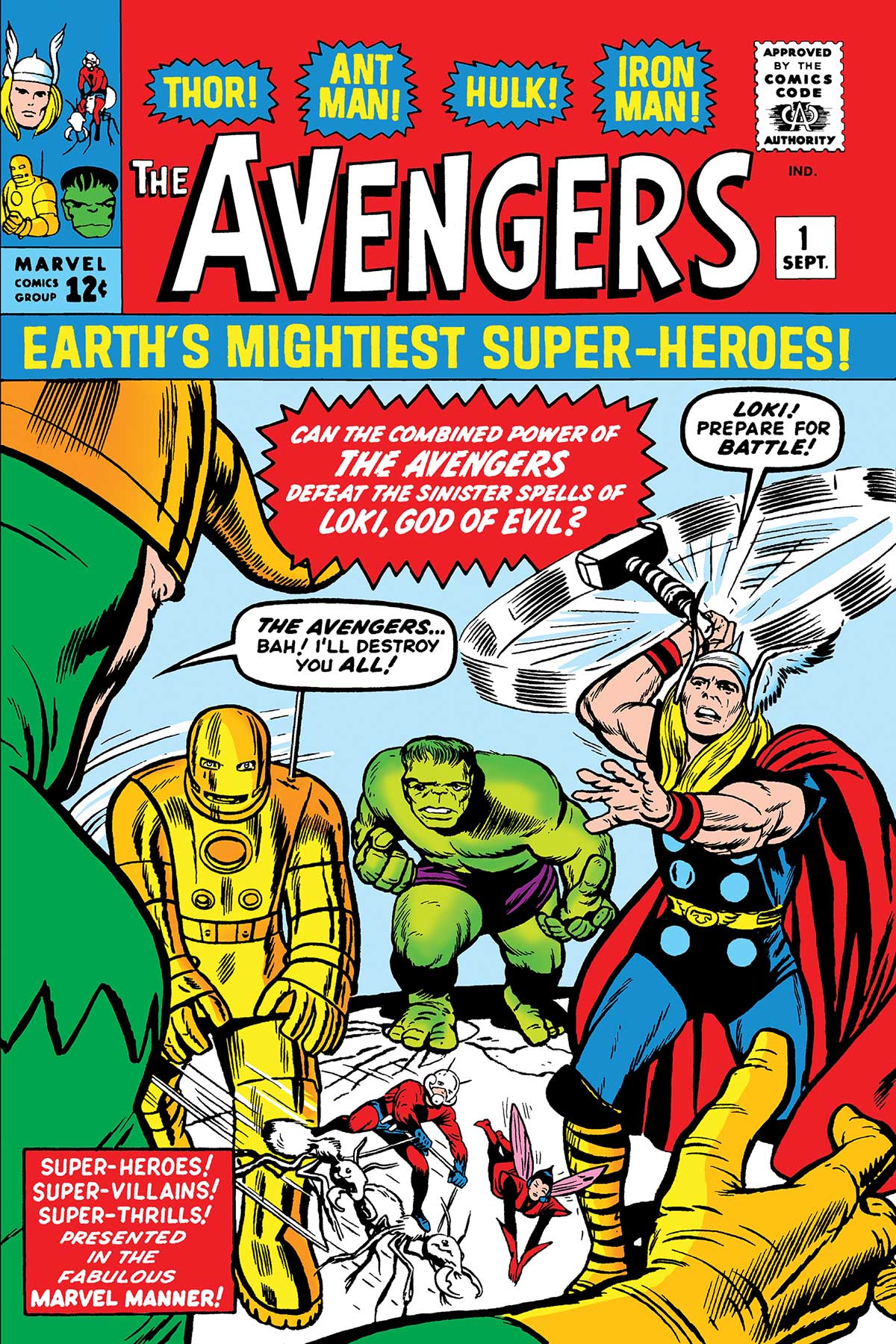 MARVEL 80TH ANNIVERSARY POSTER BOOK TPB
Penciled by VARIOUS
Cover by Jack Kirby
Celebrate eight decades of Marvel Comics by building an instant poster collection of some of the finest covers in the history of the House of Ideas — in all their oversized glory! Artistic greats from every era of comics history deliver the defining images of Marvel's greatest heroes, curated from a catalog of thousands! They are the iconic illustrations that are indelibly burned in your mind's eye — and now you can hang them in your home! We just hope you've got enough space on your walls!
40 PGS./All Ages …$24.99
ISBN: 978-1-302-91893-4
Trim size: 11 x 16
MARVEL MASTERWORKS: THE AMAZING SPIDER-MAN VOL. 21 HC
Written by DENNIS O'NEIL with MICHAEL FLEISHER, MIKE W. BARR, BILL MANTLO, J.M. DEMATTEIS,
MARK GRUENWALD & ROGER STERN
Penciled by JOHN ROMITA JR. & FRANK MILLER with LUKE MCDONNELL, BOB MCLEOD, WIN MORTIMER,
ALAN KUPPERBERG & BOB HALL
Cover by FRANK MILLER
New York City has always been a defining element in Spider-Man's world, but it's going to drive him crazy — if it doesn't kill him first. From an NYC Marathon assassination plot to Peter Parker's paper-thin apartment walls, and from a merged Hydro-Man/Sandman menace to running into his ex-girlfriend's new beau, Biff Rifkin, the City That Never Sleeps just won't give Spidey a break! And the hits keep coming when Peter Parker is accused of causing a prison break — and thrown in the slammer himself! Also featuring Moon Knight, a team-up with Sub-Mariner against the Frightful Four and the Aunt May solo "adventure" you demanded! And it's all topped off with an iconic Dennis O'Neil/Frank Miller Annual pitting Spider-Man and the Punisher against Doc Ock! Collecting AMAZING SPIDER-MAN (1963) #213-223 and ANNUAL #15.
312 PGS./Mature …$75.00
ISBN: 978-1-302-91700-5
Trim size: oversized
MARVEL MASTERWORKS: THE AMAZING SPIDER-MAN VOL. 21 HC — VARIANT EDITION VOL. 283 (DM ONLY)
312 PGS./Rated T …$75.00
ISBN: 978-1-302-91701-2
TIMELY'S GREATEST: THE GOLDEN AGE SIMON & KIRBY OMNIBUS HC
Written by JOE SIMON & JACK KIRBY with MARTIN A. BURNSTEIN & STAN LEE
Penciled by JOE SIMON & JACK KIRBY with LOUIS CAZENEUVE, AUGUST FROEHLICH,
REED CRANDALL, AL AVISON & AL GABRIELE
Covers by JOE SIMON & JACK KIRBY
Marvel proudly presents TIMELY'S GREATEST, a series of once-in-a-lifetime volumes featuring the best stories of the Golden Age, when Marvel was known as Timely Comics! Joe Simon and Jack Kirby entered the comic-book field separately and undoubtedly would have made major impacts on their own — but when their talents came together, it wasn't an impact, it was an earthquake. The Simon & Kirby team immediately became synonymous with innovative storytelling, powerful artwork and hit characters. They would birth some of the 1940s' most enduring creations, including the embodiment of a nation's fighting spirit: Captain America! This Omnibus collects Simon & Kirby's Timely Comics stories and covers, from the Vision to the Fiery Mask — and the rare Red Raven! Collecting material from DARING MYSTERY COMICS #1-3 and #6-8, RED RAVEN COMICS #1, MARVEL MYSTERY COMICS #12-25, HUMAN TORCH COMICS #2, CAPTAIN AMERICA COMICS #1-10, ALL-WINNERS COMICS (1941) #1-2, USA COMICS #1-3, YOUNG ALLIES COMICS #1 and MYSTIC COMICS (1941) #7.
840 PGS./Rated T …$150.00
ISBN: 978-1-302-91934-4
Trim size: oversized
TIMELY'S GREATEST: THE GOLDEN AGE SIMON & KIRBY OMNIBUS HC VARIANT COVER (MARVEL 80TH, DM ONLY)
840 PGS./Rated T …$150.00
ISBN: 978-1-302-91956-6
Trim size: oversized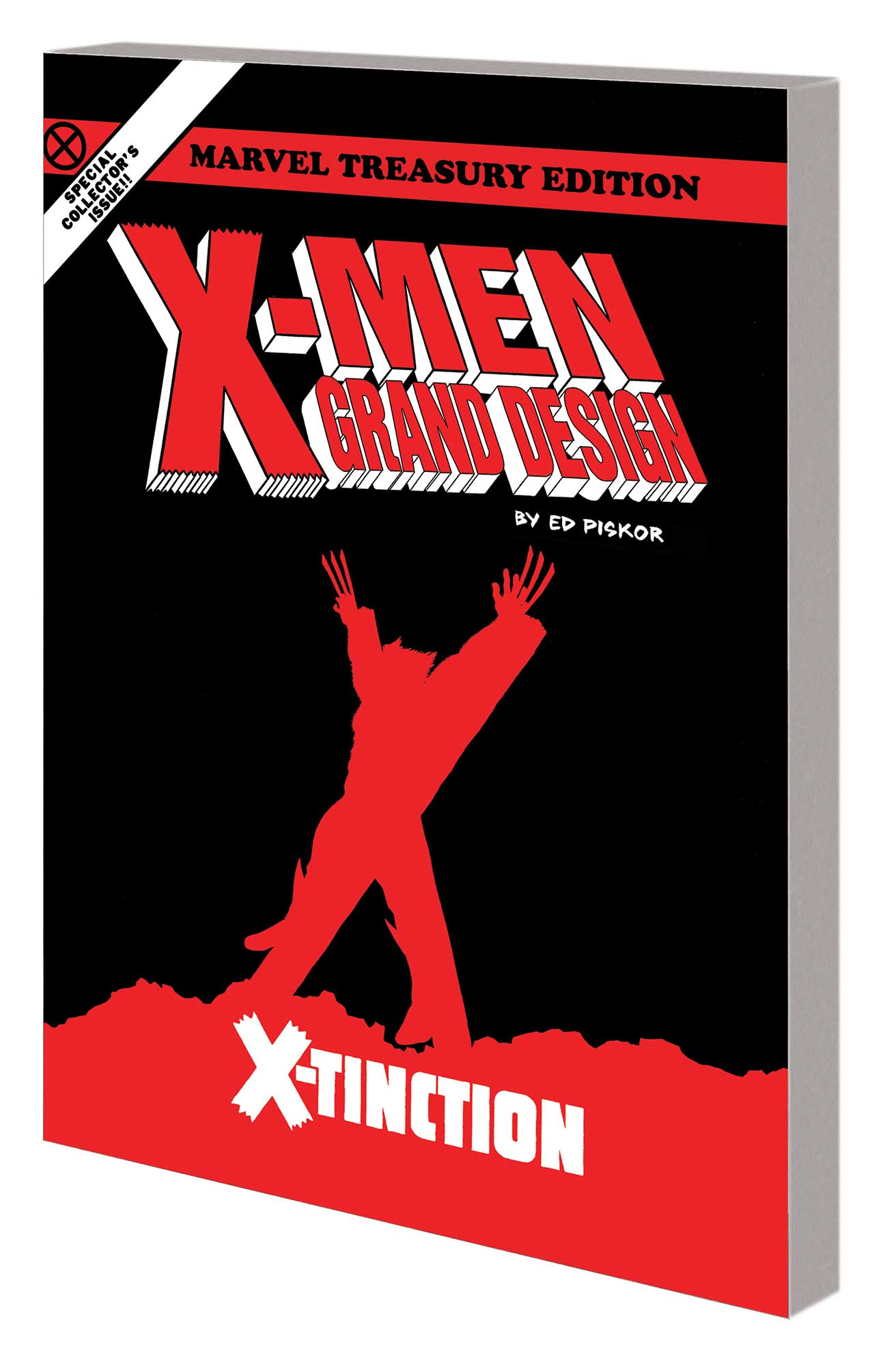 X-MEN: GRAND DESIGN — X-TINCTION TPB
Written by ED PISKOR with CHRIS CLAREMONT
Penciled by ED PISKOR with JIM LEE
Cover by ED PISKOR
The series that has critics and fans raving returns for its final installment! The fall and rise of the X-Men revisited! Relive the now-classic storylines of the 1980s — including the Mutant Massacre, the Fall of the Mutants, Inferno and the X-Tinction Agenda! And it's out with the old and in with the blue and gold as the X-Men enter the '90s! An explosive era of X-Men history is revisited, expanded and polished for a new generation — including the debuts of such 1990s mainstays as Jubilee, Gambit, Psylocke, Mister Sinister and more! The final chapter of this best-selling prestige series caps off the first three decades of X-Men lore in one neat package — all of it brought to life by the master of graphic fiction himself, Ed Piskor! Collecting X-MEN: GRAND DESIGN — X-TINCTION #1-2 — plus the classic UNCANNY X-MEN (1981) #268, masterfully recolored by Ed. Presented in the same dynamic, oversized format of the best-selling Hip Hop Family Tree.
120 PGS./Rated T+ …$29.99
ISBN: 978-1-302-90491-3
Trim size: 9 x 13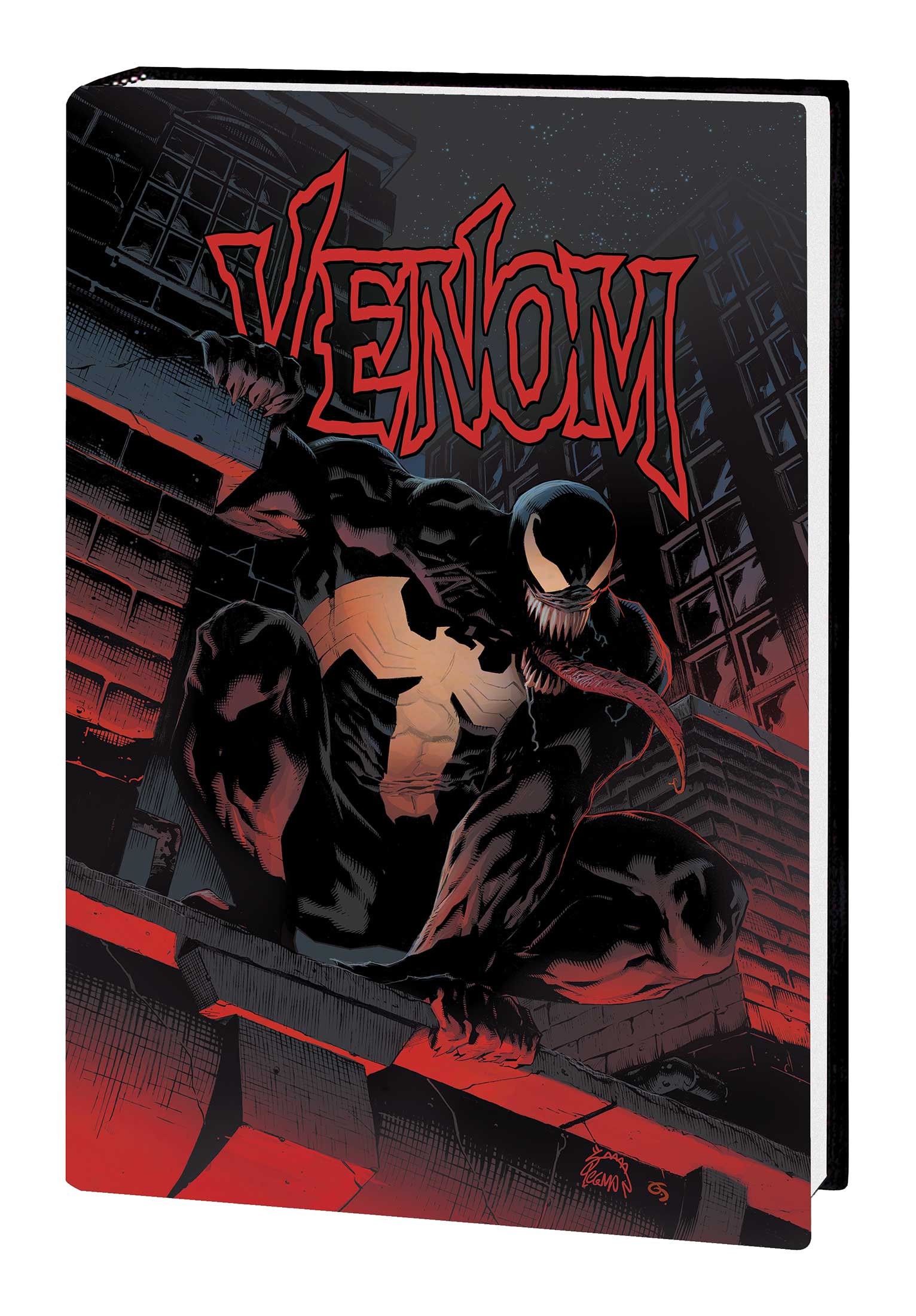 VENOM BY DONNY CATES VOL. 1 HC
Written by DONNY CATES
Penciled by RYAN STEGMAN & IBAN COELLO
Cover by RYAN STEGMAN
Rising star Donny Cates and blockbuster artist Ryan Stegman transform the world of Venom! An ancient and primordial evil has surfaced beneath the streets of New York. With it, something equally disturbing has been awakened in Venom, that most wicked of web-slingers! The symbiote may still be a lethal protector of innocents in New York, but this never-before-seen threat may force Venom to relinquish everything it holds dear — including its human host, Eddie Brock! Eddie and the symbiote summon the strength to defend New York against the most powerful foe they've ever faced, but one more thing stands in their way: Miles Morales, the newest Spider-Man! And relations between Eddie and the symbiote become ever more strained when new questions about the creature and its otherworldly origins come to light! Collecting VENOM (2018) #1-12.
280 PGS./Rated T+ …$34.99
ISBN: 978-1-302-91967-2
Trim size: oversized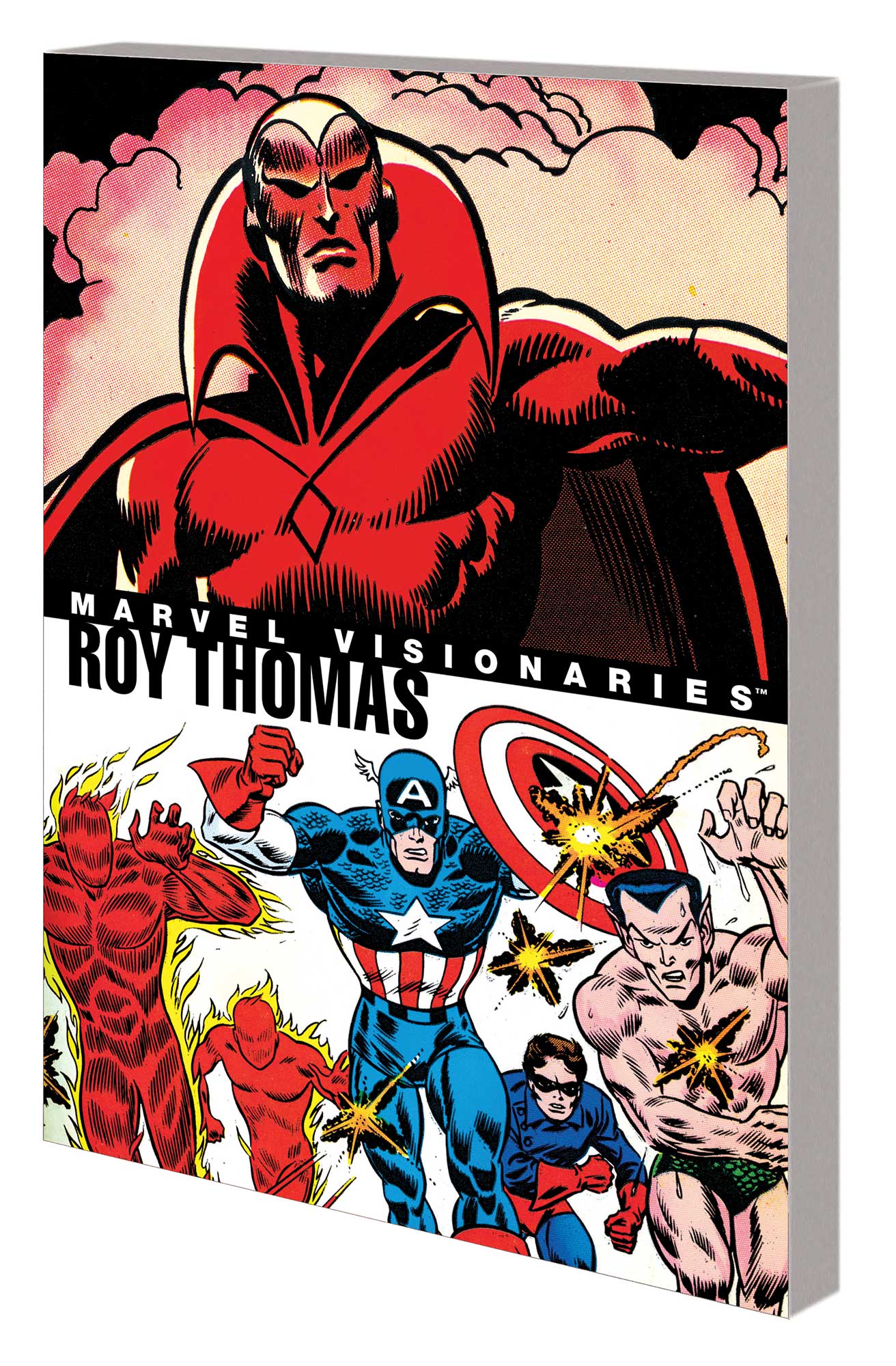 MARVEL VISIONARIES: ROY THOMAS TPB
Written by ROY THOMAS with STAN LEE & DANN THOMAS
Penciled by STAN GOLDBERG, DON HECK,
JOHN BUSCEMA, BARRY WINDSOR-SMITH, MARIE SEVERIN, GIL KANE, GEORGE PEREZ, FRANK ROBBINS, BUTCH GUICE & MORE
Cover by JOHN BUSCEMA & FRANK ROBBINS
Celebrate the career of a true Marvel Visionary! Relive some of Rascally Roy Thomas' greatest stories as, under his pen, the Fantastic Four confronts racism, social injustice and…the Impossible Man?! Vision joins the Avengers! The Hulk finds his way to "Heaven!" Namor fights Dragon Man! Captain Marvel escapes the Murder Maze! The origin of the Invaders! Doctor Strange's secrets revealed! Dracula in Salem and the X-Men in Japan! And who is Starr the Slayer? Plus: Rarely seen Silver Age stories of humor and romance! Collecting MODELING WITH MILLIE #44; AVENGERS (1963) #35, #57-58 and #100; SUB-MARINER (1968) #8 and #14; CAPTAIN MARVEL (1968) #19; X-MEN (1963) #64; FANTASTIC FOUR (1961) #119 and #176; GIANT-SIZE INVADERS #1; and material from TALES OF SUSPENSE (1959) #73; NOT BRAND ECHH #12; CHAMBER OF DARKNESS #4; AMAZING ADVENTURES (1970) #8; INCREDIBLE HULK (1968) #147; DRACULA LIVES #1 and DOCTOR STRANGE, SORCERER SUPREME #9.
352 PGS./Rated T …$34.99
ISBN: 978-1-302-91840-8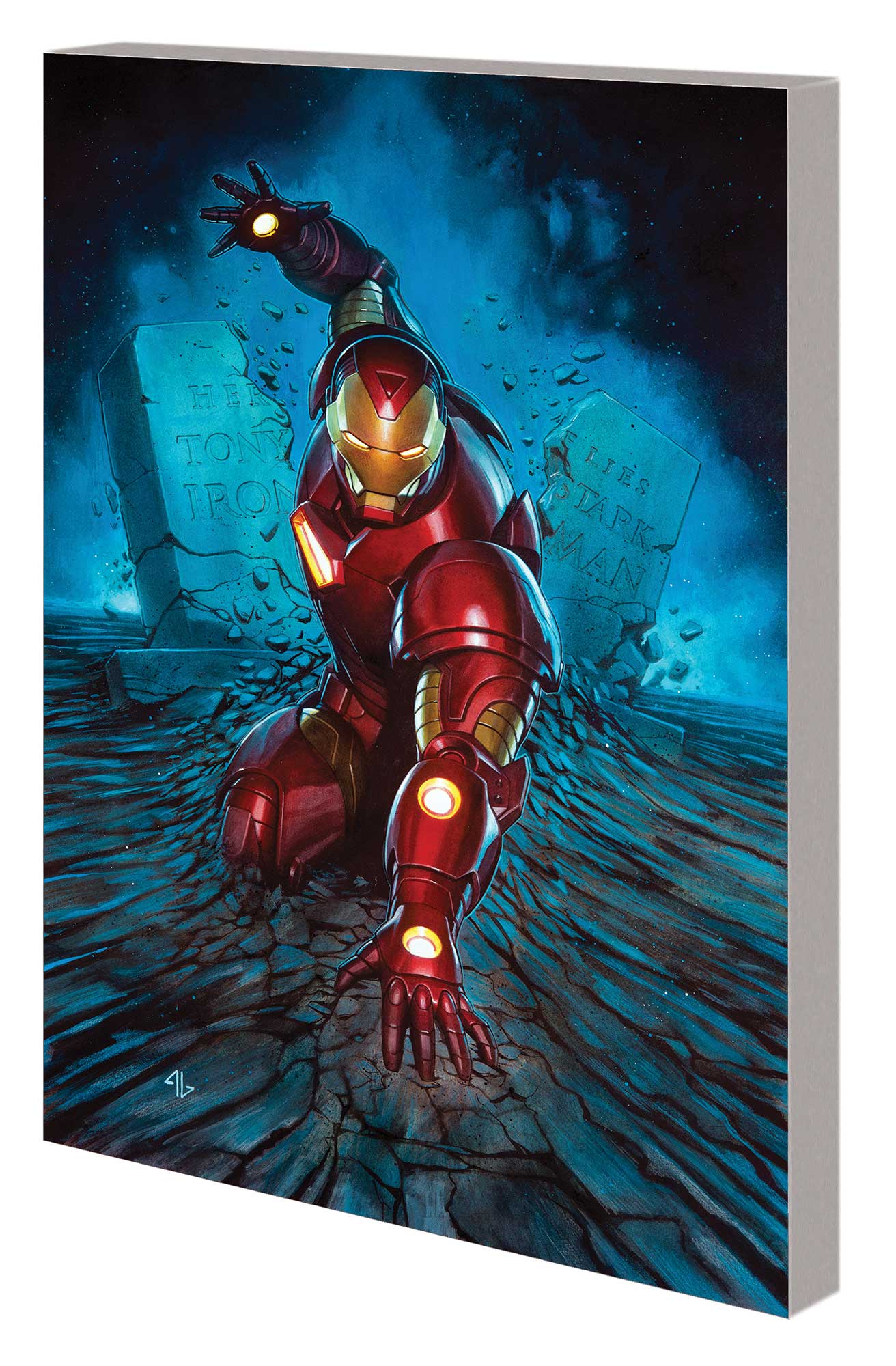 MARVEL MONOGRAPH: THE ART OF ADI GRANOV TPB
Written by JOHN RHETT THOMAS
Penciled by ADI GRANOV
Cover by ADI GRANOV
Gaze in wonder on the art of modern masters — in the Marvel Monographs! Adi Granov's slick, polished work on Iron Man redefined the character for the modern era, helped set the look of the Marvel Cinematic Universe's first film and catapulted Granov's unique art style into a fan favorite! Now one of the most in-demand artists in the business, Granov's work has graced the covers of scores of Marvel books — including Iron Man, Spider-Man, Captain America, Black Widow, Thor, the X-Men and more! This volume presents a gorgeous gallery of many of the finest pages and covers Granov has ever drawn!
112 PGS./Rated T+ …$19.99
ISBN: 978-1-302-91759-3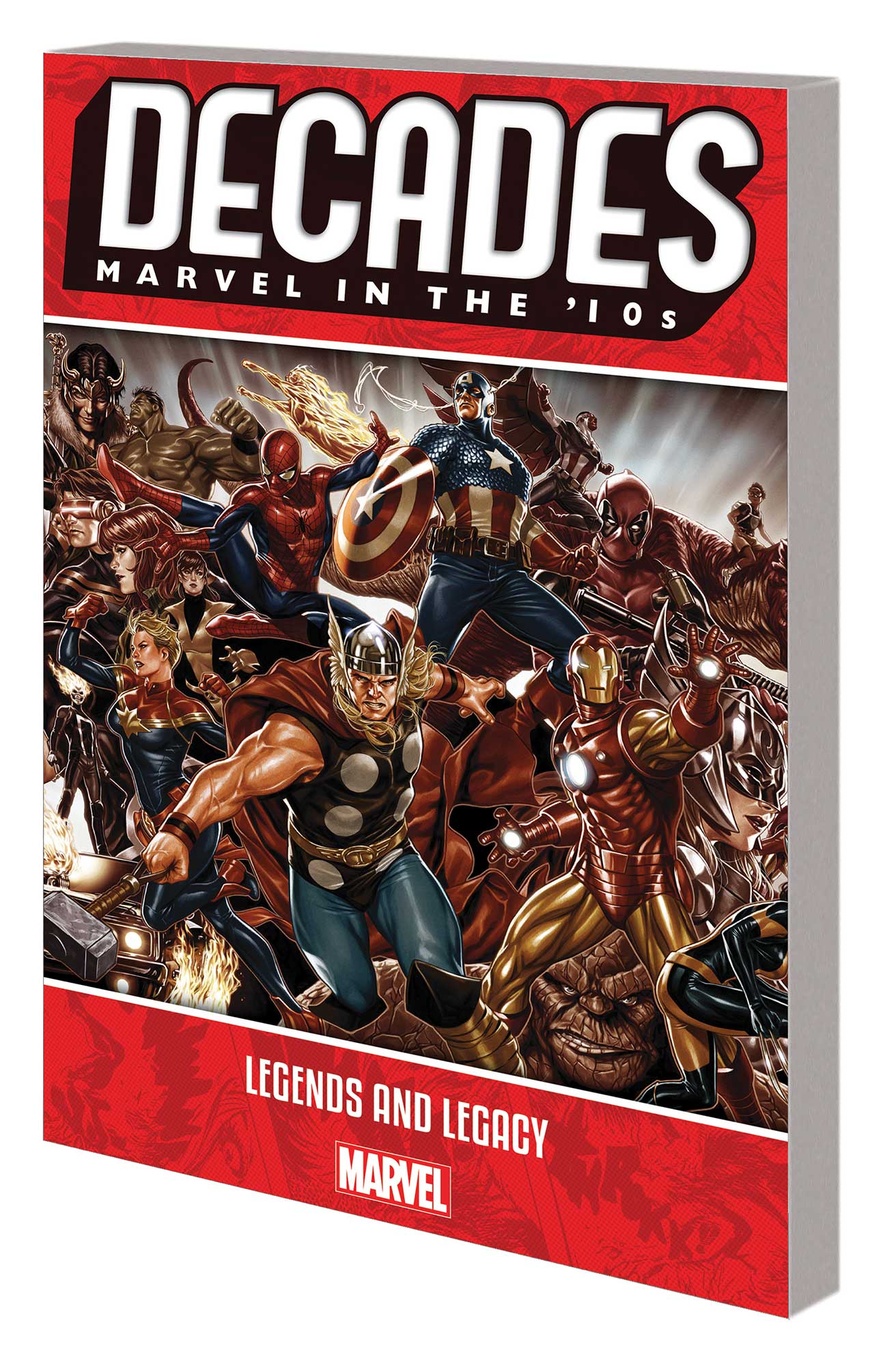 DECADES: MARVEL IN THE '10S — LEGENDS AND LEGACY TPB
Written by BRIAN MICHAEL BENDIS, KELLY SUE DECONNICK, KIERON GILLEN, JASON LATOUR, G. WILLOW WILSON, DAN SLOTT, JASON AARON, TA-NEHISI COATES, RYAN NORTH & JEFF LEMIRE
Penciled by CHRIS SAMNEE, DEXTER SOY, GREG LAND, SARA PICHELLI, ROBBI RODRIGUEZ, ELMO BONDOC, GIUSEPPE CAMUNCOLI, RUSSELL DAUTERMAN, BRIAN STELFREEZE, ERICA HENDERSON & MIKE DEODATO JR.
Cover by MARK BROOKS
Celebrate 80 years of Marvel Comics, decade by decade. The blockbuster icons and bold new generation of the trailblazing 2010s! As iconic heroes enjoyed worldwide cinematic success, a diverse array of young champions stole the spotlight! Find your favorite movie stars in outstanding adventures by the best modern creators — from Iron Man, Black Panther, Spider-Man and Captain Marvel…to Thanos! And get to know the new kids on the block — Miles Morales; Spider-Gwen; Thor, Goddess of Thunder; the Unbeatable Squirrel Girl; and Kamala Khan, the incomparable Ms. Marvel! Collecting ULTIMATE COMICS SPIDER-MAN (2011) #7, CAPTAIN MARVEL (2012) #1, IRON MAN (2012) #1, GUARDIANS OF THE GALAXY (2013) #4, EDGE OF SPIDER-VERSE #2, MS. MARVEL (2014) #12, AMAZING SPIDER-MAN (2015) #3, MIGHTY THOR (2015) #5, BLACK PANTHER (2016) #1, UNBEATABLE SQUIRREL GIRL (2015B) #7 and THANOS (2016) #1.
248 PGS./Rated T+ …$24.99
ISBN: 978-1-302-91792-0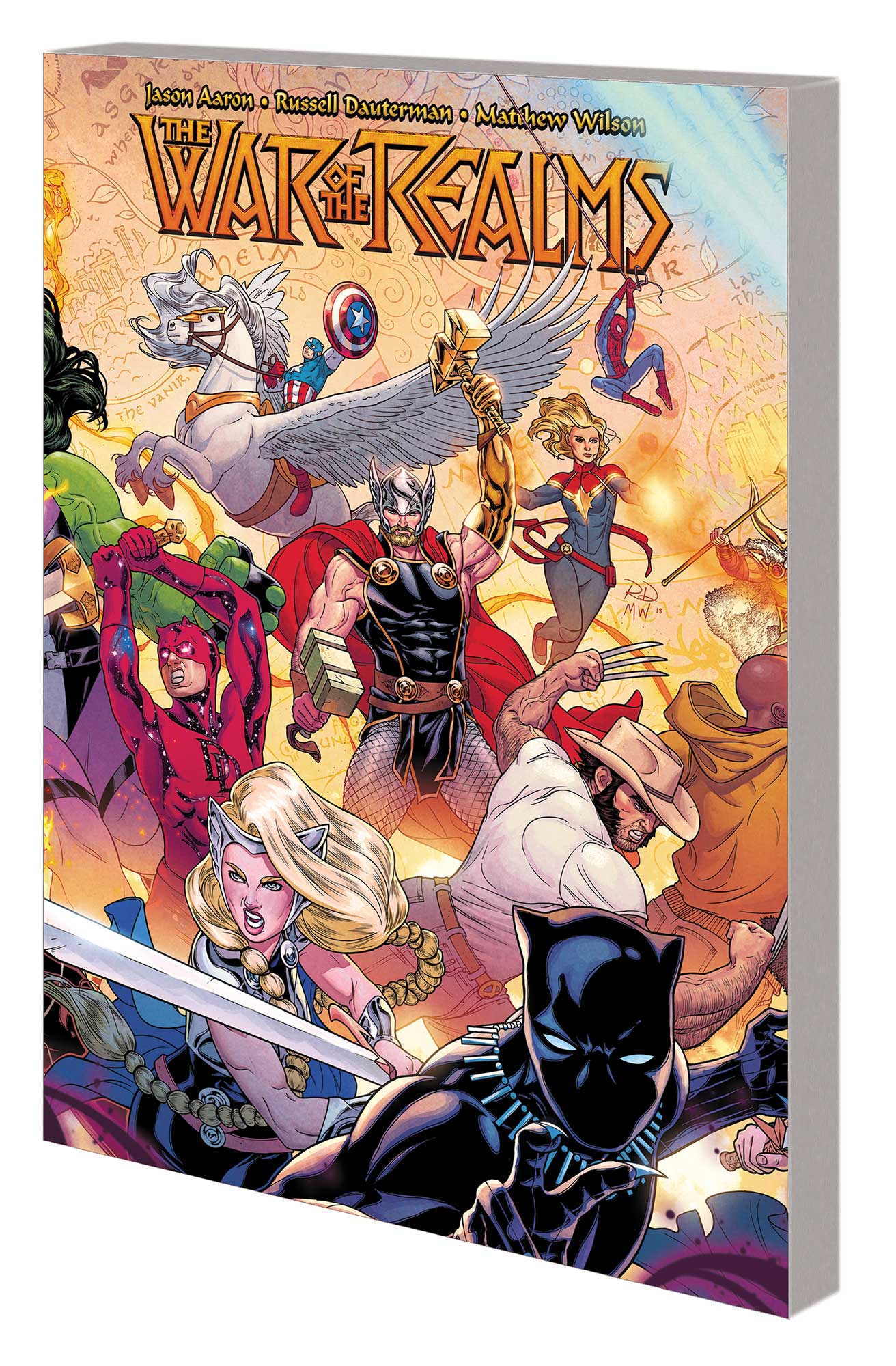 WAR OF THE REALMS TPB
Written by JASON AARON
Penciled by RUSSELL DAUTERMAN
Cover by RUSSELL DAUTERMAN
Asgard. Alfheim. Heven. Jotunheim. Muspelheim. Niffleheim. Nidavellir. Svartalfheim. Vanaheim. All of the Ten Realms have fallen to Malekith and his army, except one: Midgard. Home to Thor's beloved humans. Home to heroes and gods alike. Now, at last, Midgard burns. All hell breaks loose in New York City as Malekith and his allies begin their invasion — and our greatest heroes watch as Earth falls! With Thor trapped in the land of the Frost Giants and Earth's forces overwhelmed, Black Panther, Jane Foster and Doctor Strange undertake a desperate gamble. What can possibly stop Malekith and his army? Spider-Man, Daredevil, Punisher, Ghost Rider, Blade, Hulk and more join the fray as Jason Aaron's epic Thor saga explodes across the Marvel Universe in an event for the ages! Collecting WAR OF THE REALMS #1-6 and WAR OF THE REALMS: OMEGA.
192 PGS./Rated T+ …$29.99
ISBN: 978-1-302-91469-1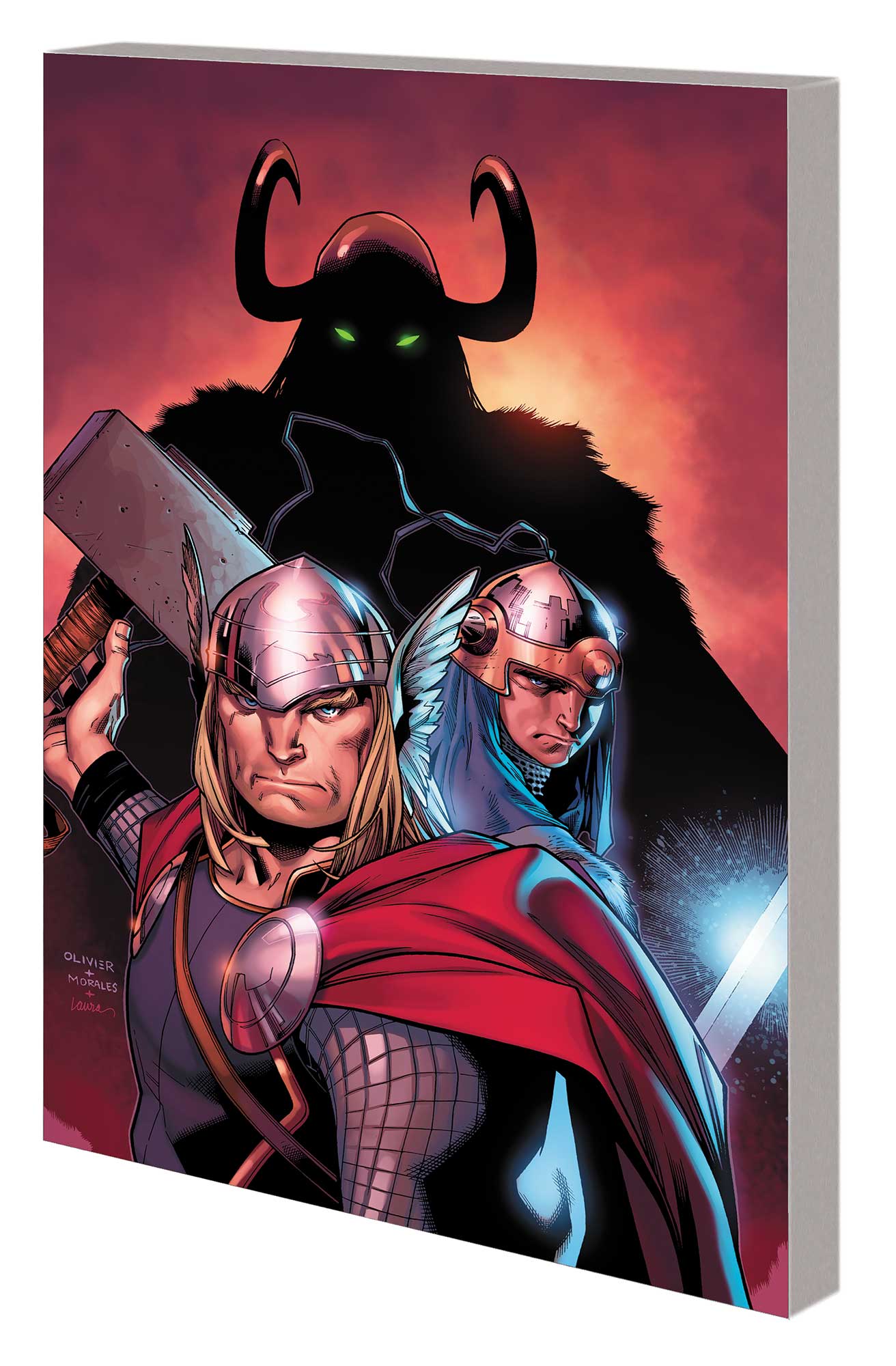 THOR OF THE REALMS TPB
Written by STAN LEE, GERRY CONWAY, WALTER SIMONSON, J. MICHAEL STRACZYNSKI, PETER MILLIGAN, JASON AARON, AL EWING & RANDALL FRENZ
Penciled by JACK KIRBY, JOHN BUSCEMA, WALTER SIMONSON, OLIVIER COIPEL, CARY NORD, FRAZER IRVING, LEE GARBETT, CHARLES VESS & MORE
Cover by OLIVIER COIPEL
Join Thor and his family on a titanic tour of the Ten Realms! Witness the ancient origin of Yggdrasil the World-Tree! Thor leads a desperate battle against the relentless Mangog — for Asgard! Learn how a foolhardy adventure in Niffleheim led young Thor to be banished! Loki declares war on Midgard — and visits his childhood self in Jotunheim! From Svartalfheim, Dark Elf Malekith plots to unleash the Casket of Ancient Winters — and Odin recalls the ancient trip to Muspelheim that began his age-old rivalry with Surtur! Plus: Alfheim! Vanaheim! Nidavellir's role in the origin of Mjolnir! And the stunning revelation of the Tenth Realm of Heven! Collecting THOR (1966) #157, #159, #233-234 and #347-349; THOR (2007) #12; THOR: THE TRIAL OF THOR; MIGHTY THOR (2015) #12; ORIGINAL SIN #5.1; and material from JOURNEY INTO MYSTERY (1952) #97 and THOR (1966) #400.
272 PGS./Rated T+ …$29.99
ISBN: 978-1-302-91838-5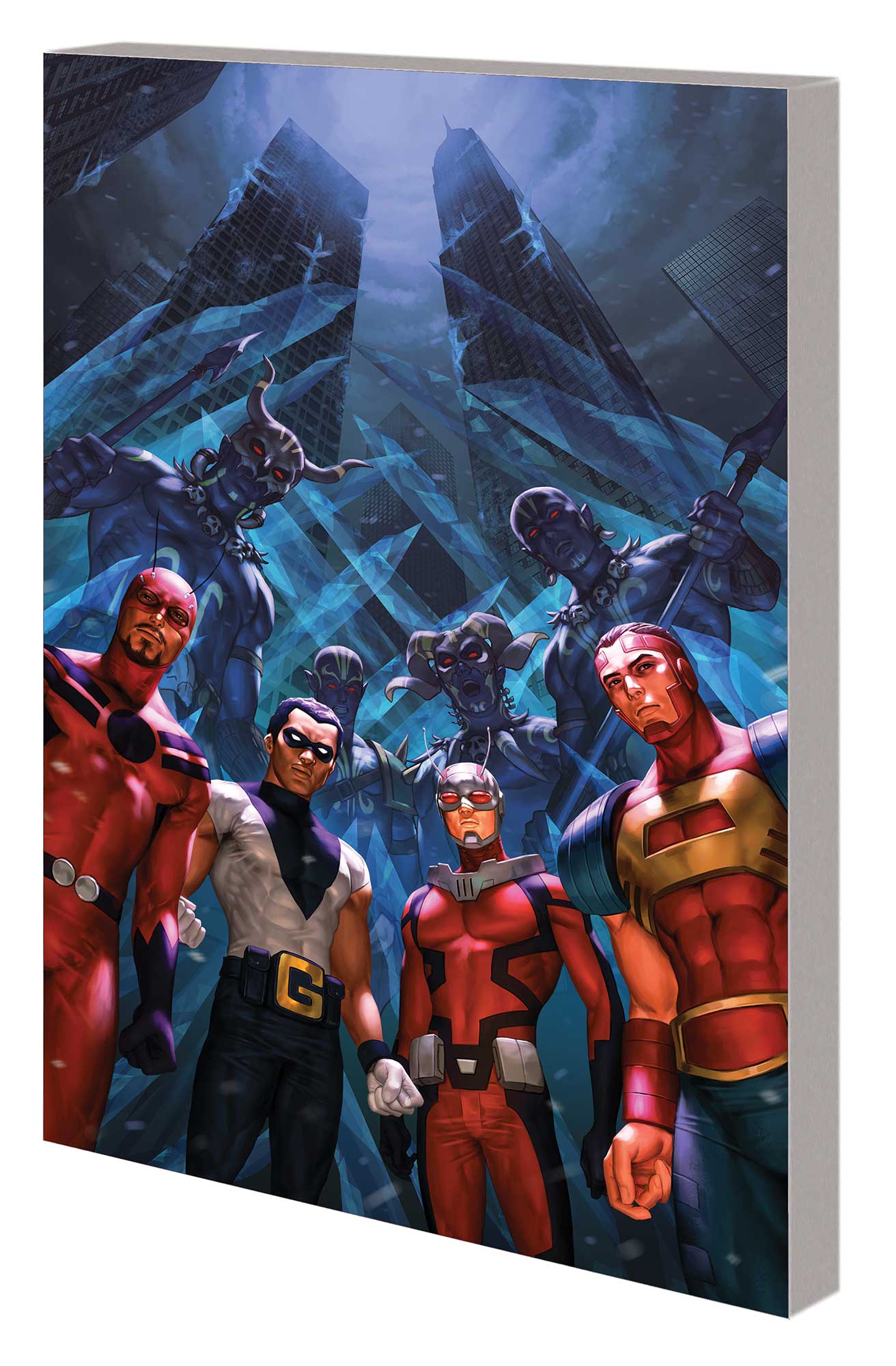 WAR OF THE REALMS: GIANT-MAN TPB
Written by LEAH WILLIAMS, CHIP ZDARSKY & JOSH TRUJILLO
Penciled by MARCO CASTIELLO, JOE QUINONES & MORE
Cover by WOO CHEOL
ON SALE AUGUST 2019
Malekith's invading army has giants — but so does Midgard! As the War of the Realms rages, four men must rise to monstrous heights at the behest of All-Mother Freyja and infiltrate the savage territory of Florida — now known as New Jotunheim! Ant-Man, Giant-Man, Goliath and Atlas go sky-scraping shoulder-to-shoulder on a deadly mission to kill the patriarch of all Frost Giants: Ymir! And how exactly will they penetrate King Laufey's forces? By becoming masters of disguise! But what role will Atlas' former teammate, the unpredictable Moonstone, play role in all this? Plus: More tales of the War of the Realms — including a Howard the Duck story by Chip Zdarsky and Joe Quinones! Collecting GIANT-MAN #1-3 and material from WAR OF THE REALMS: WAR SCROLLS #1.
112 PGS./Rated T+ …$15.99
ISBN: 978-1-302-91828-6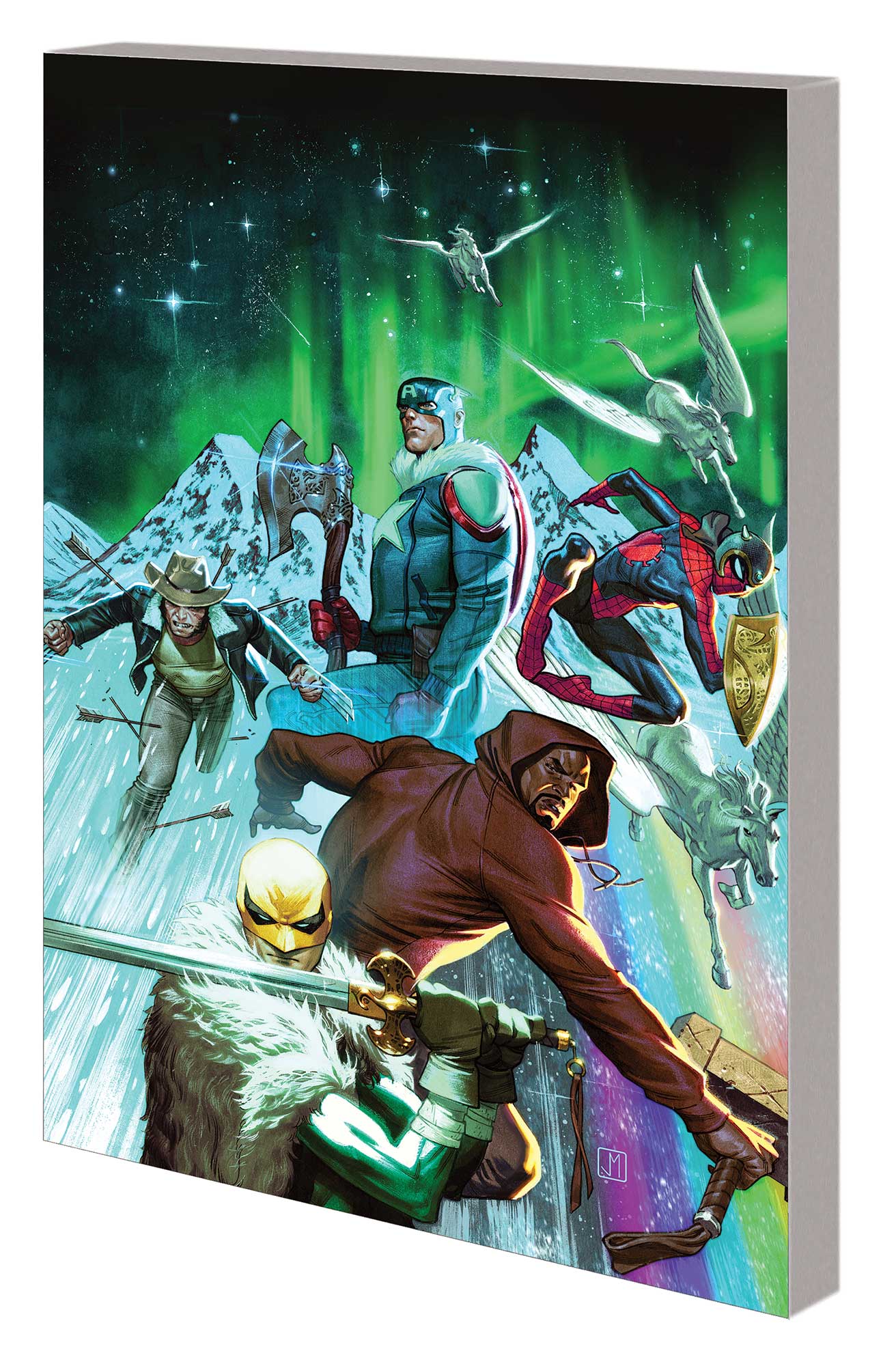 WAR OF THE REALMS STRIKEFORCE TPB
Written by TOM TAYLOR, BRYAN HILL & DENNIS "HOPELESS" HALLUM
Penciled by JORGE MOLINA, LEINIL FRANCIS YU & KIM JACINTO
Cover by JORGE MOLINA
Earth's heroes undertake a multi-pronged mission to win the War of the Realms! With Thor trapped in Jotunheim, Captain America takes up the God of Thunder's ax, Jarnbjorn, and leads a team including Spider-Man, Wolverine, Luke Cage and Iron Fist into the land of ice and snow in search of their fellow Avenger! Meanwhile, All-Mother Freyja leads the charge to shut down Malekith's Black Bifrost — and Hulk, Blade, Ghost Rider and Punisher follow her straight into the Dark Elf's home territory! And it's up to Captain Marvel and her War Avengers — Weapon H, Captain Britain, Venom, Deadpool, Winter Soldier and Black Widow — to reclaim the Earth! But Malekith's army is vast, and Carol is fighting a losing battle! Collecting WAR OF THE REALMS STRIKEFORCE: THE LAND OF THE GIANTS, THE DARK ELF REALM and THE WAR AVENGERS.
112 PGS./Rated T+ …$15.99
ISBN: 978-1-302-91855-2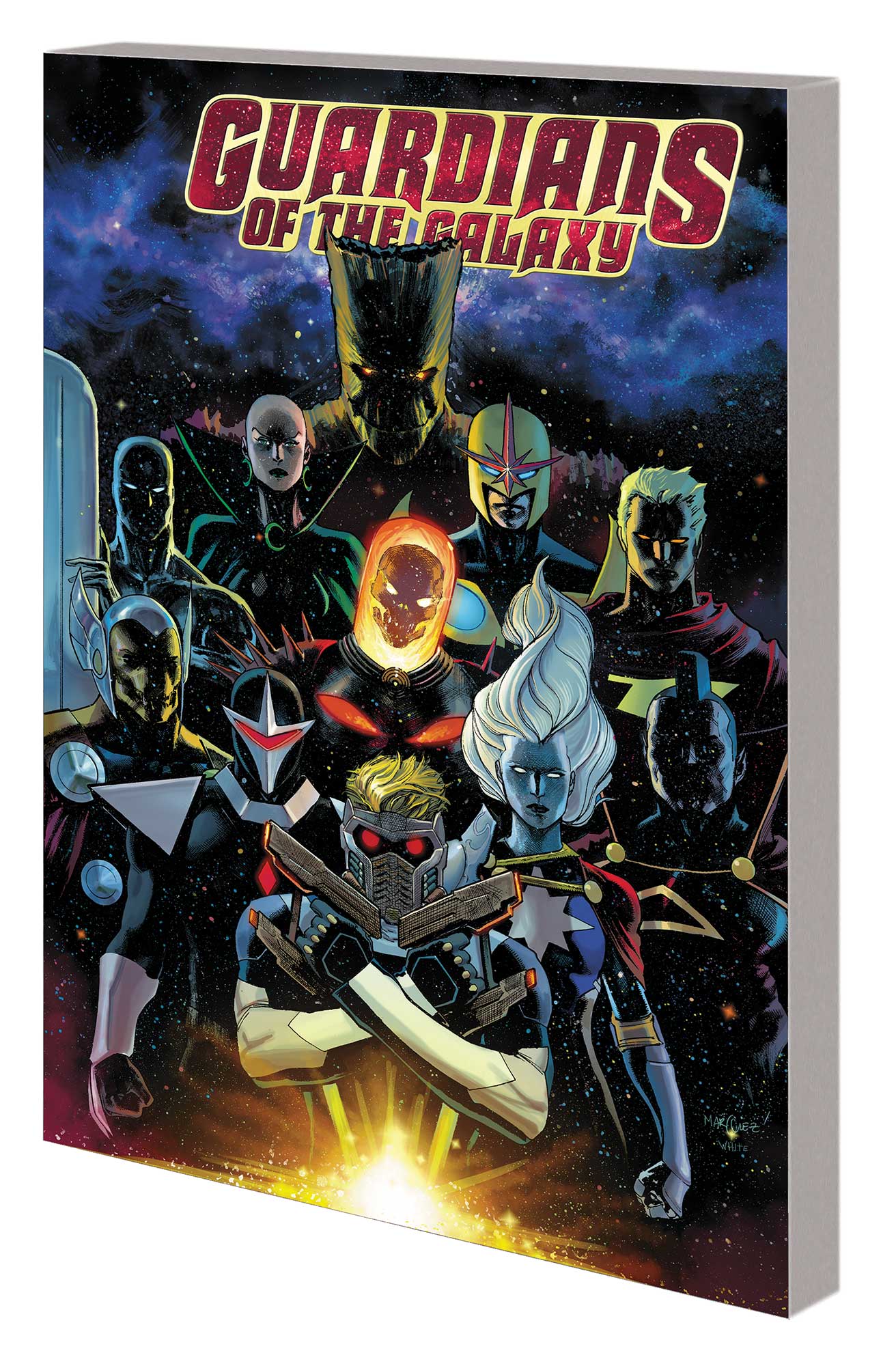 GUARDIANS OF THE GALAXY VOL. 1: THE FINAL GAUNTLET TPB
Written by DONNY CATES
Penciled by GEOFF SHAW
Cover by DAVID MARQUEZ
The universe is on fire. Hundreds of worlds are at war. Never has there been such hatred and division across the cosmos. Now, more than ever, the Galaxy needs Guardians — but in the aftermath of the Infinity Wars, who is left to answer the call? On the plus side, Thanos is dead — but long live the new Thanos! Who will it be? And can the Guardians find them before everything comes crashing down? They're not the only ones on the hunt, though. Who are the Dark Guardians? And what does the search for Thanos' successor have to do with Hela, goddess of death? Prepare for the Guardians vs. the Dark Guardians vs. the Black Order! It's all-out chaos, and it's about to get worse. Could the Mad Titan be fighting his way back from the grave?! Collecting GUARDIANS OF THE GALAXY (2019) #1-6.
144 PGS./Rated T+ …$17.99
ISBN: 978-1-302-91588-9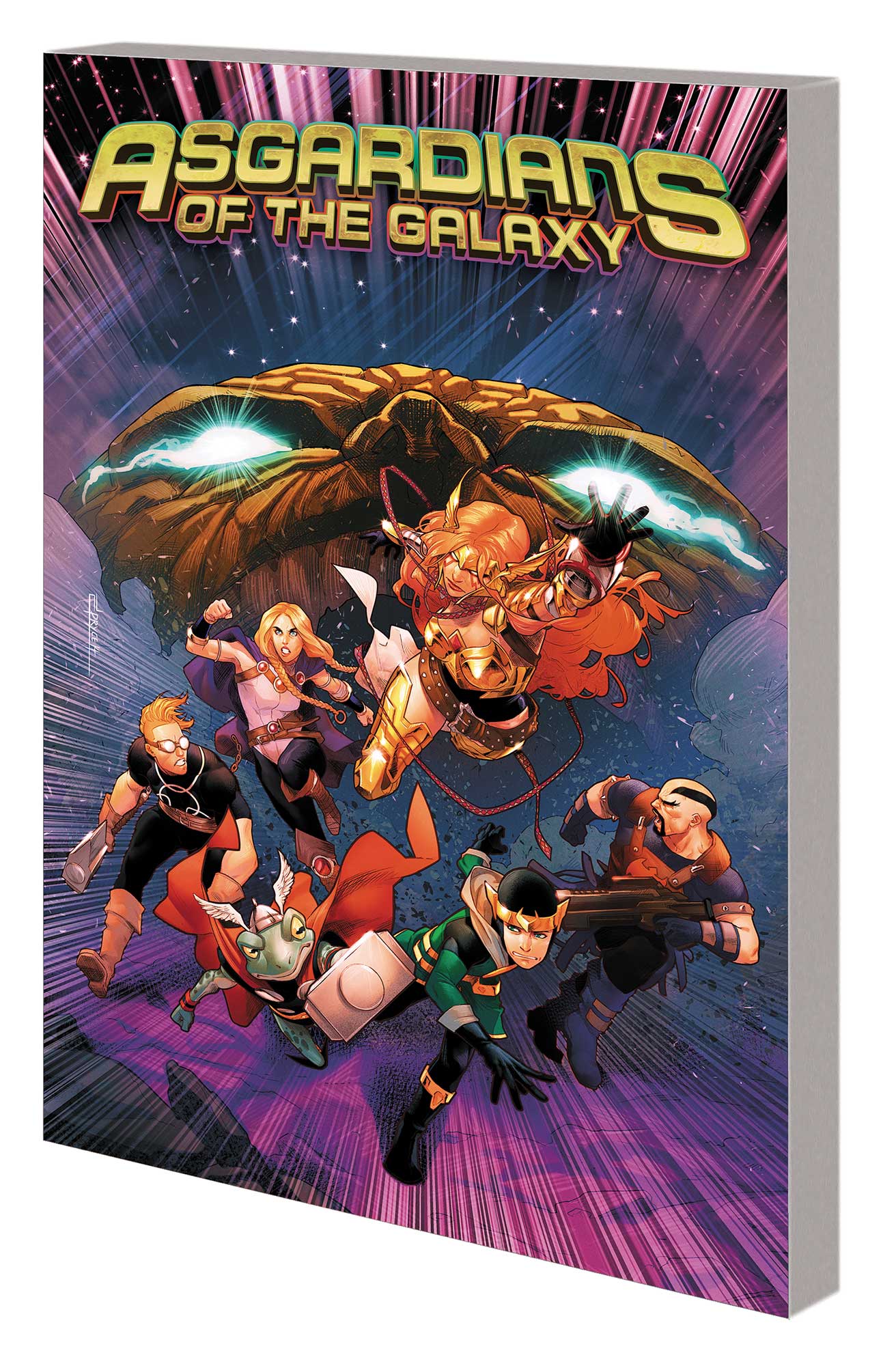 ASGARDIANS OF THE GALAXY VOL. 2: WAR OF THE REALMS TPB
Written by CULLEN BUNN
Penciled by MATTEO BUFFAGNI & MATTEO LOLLI
Cover by JAMAL CAMPBELL
The Asgardians of the Galaxy join the War of the Realms! Loki promised Angela a gift in exchange for her help against Nebula — and the debt is coming due! But what does that have to do with Yondu Udonta and his new Ravagers? Simmering intrigue comes to a head as the team enters the orbit of Ego the Living Planet! But if Ego is this angry, what will its moon do?! Then, Malekith's invasion of Midgard has begun — and with Thor missing, Odin injured and Freyja about to embark on a mission of her own, Valkyrie must stand alone against the onslaught! But her fate is intertwined with another. What of Annabelle Riggs, the mortal who shares the body of a god? Plus: the battle you've been waiting for — Angela vs. the Queen of Heven! Collecting ASGARDIANS OF THE GALAXY #6-10.
112 PGS./Rated T+ …$15.99
ISBN: 978-1-302-91692-3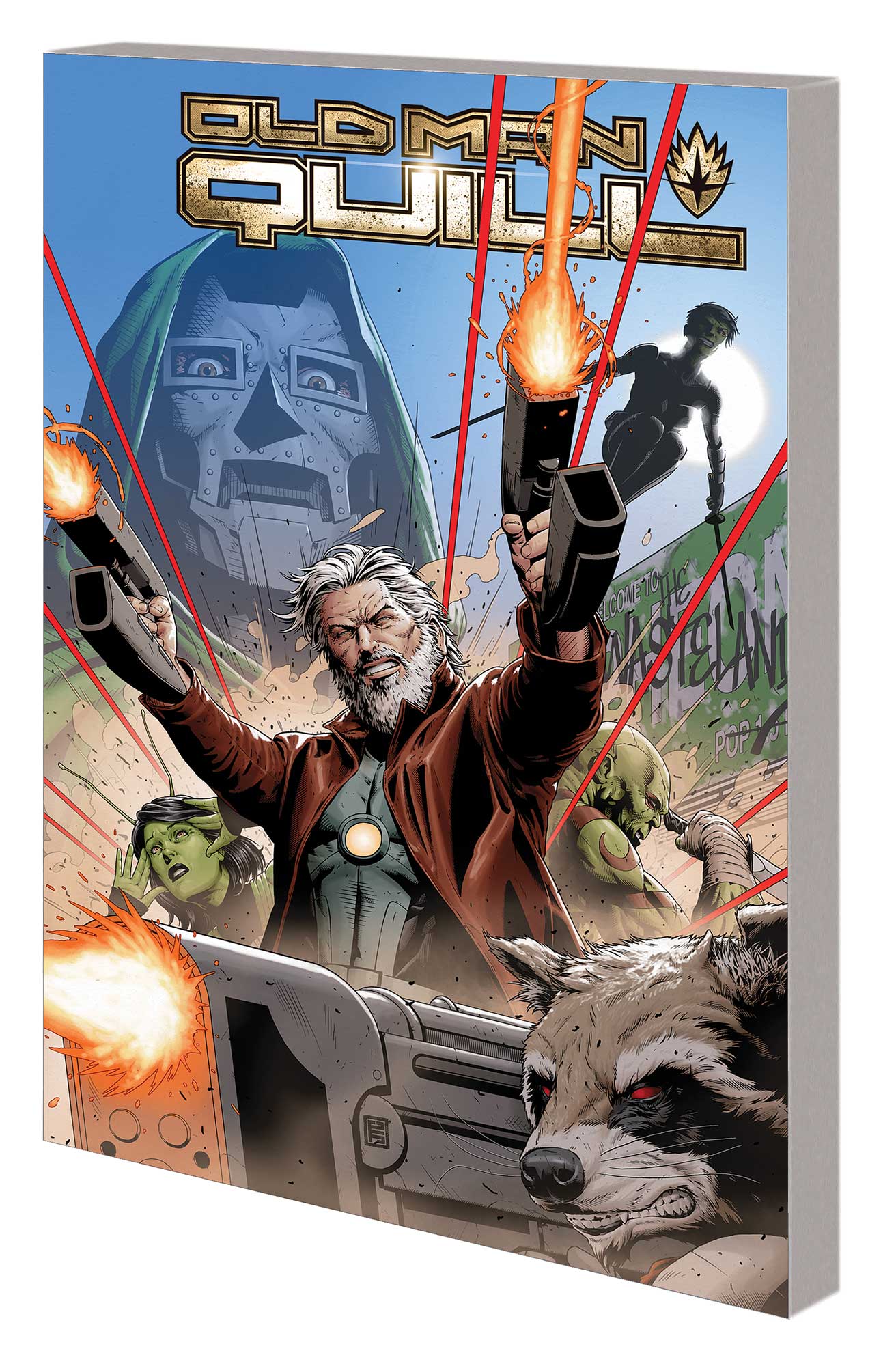 OLD MAN QUILL VOL. 1: NOBODY'S FAULT BUT MINE TPB
Written by ETHAN SACKS
Penciled by ROBERT GILL & IBRAIM ROBERSON
Cover by JOHN TYLER CHRISTOPHER
Peter Quill finally grew up. He used to be Star-Lord, but it's been some time since he's gone by that name. Taking over for his father as the emperor of Spartax, Quill put a life of spacefaring adventure behind him for one of leadership and responsibility. But things didn't go as planned. Decades have passed, and Peter is haunted by tragedy. Down and out, his existence means nothing — until the former Guardians of the Galaxy drag him out of his funk for one last mission! The heist of a lifetime — and Quill's harrowing last shot at redemption — takes him back to a transformed Earth. But the Wastelands are a dangerous place, with Gladiator and the Universal Church of Truth closing in! And the shadow of Doom hangs over the Guardians' every move. Collecting OLD MAN QUILL #1-6.
136 PGS./Parental Advisory …$17.99
ISBN: 978-1-302-91669-5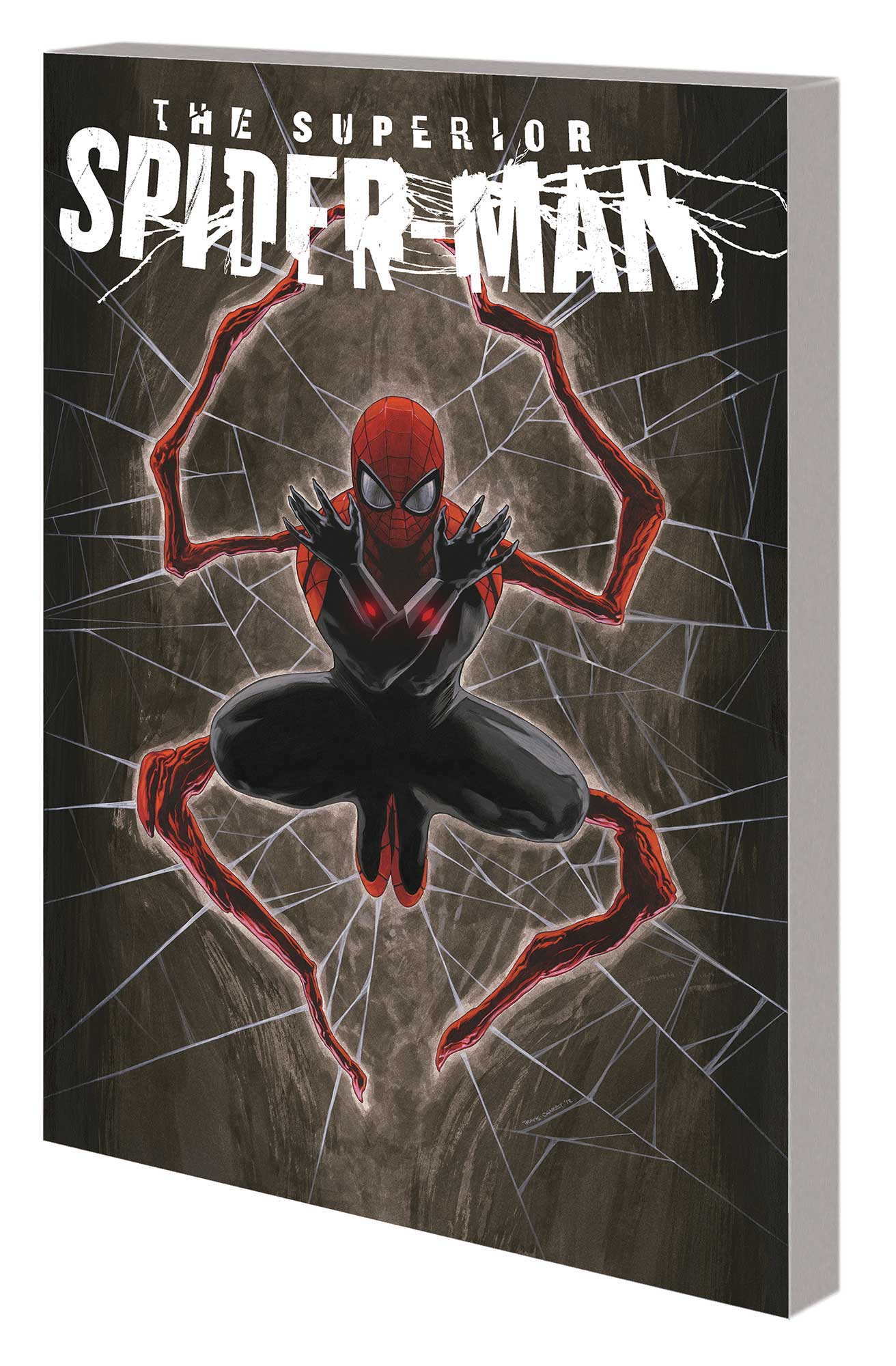 SUPERIOR SPIDER-MAN VOL. 1: FULL OTTO TPB
Written by CHRISTOS GAGE
Penciled by MIKE HAWTHORNE
Cover by TRAVIS CHAREST
Otto Octavius once again becomes the Superior Spider-Man! If you think you've already read the most intense, unexpected and surprisingly heartbreaking Superior Spider-Man story there is, prepare to be proven wrong! Leaving the moniker of Doctor Octopus behind, Otto is going to show the world he's the most pragmatic, most effective and — to him, anyway — best super hero on the planet. But when Terrax the Tamer — a villain who considerably overpowers him — strikes, being superior isn't enough. It's time to go cosmic! But is the world ready? After tussling with Terrax, Otto is looking forward to the usual Spider-Man fare of street-level villains — so imagine his dismay when a major magical threat rears its ugly head and he's forced to…ugh…ask for help! Will Doctor Strange lend a hand or stop Otto himself? Collecting SUPERIOR SPIDER-MAN (2018) #1-6.
136 PGS./Rated T …$17.99
ISBN: 978-1-302-91480-6
AMAZING SPIDER-MAN: HUNTED TPB
Written by NICK SPENCER
Penciled by RYAN OTTLEY, ALBERTO ALBURQUERQUE, IBAN COELLO, HUMBERTO RAMOS, KEN LASHLEY, CHRIS BACHALO & CORY SMITH
Cover by HUMBERTO RAMOS
VOLUME 4 of Nick Spencer's AMAZING SPIDER-MAN run!
When Kraven returns, Spider-Man becomes the hunted! Sergei Kravinoff and his minions have been kidnapping animal-themed superhumans for months, and they need one more to complete the collection: the Spider. But what does Kraven want with all of them?! In Central Park, the prey is let loose, and the hunt begins — but Kraven isn't the one in pursuit. Who has Spidey in their crosshairs? The Lizard has a target on his back, too — but he has a truly terrifying plan of his own! Peter Parker will find himself in a horrible situation, but there are lives — innocent and otherwise — at stake, and…well…he's Spider-Man. When it comes to the big showdown, you have no idea how this one will go down! Collecting AMAZING SPIDER-MAN (2018) #16-23, #16.HU and #18.HU-20.HU.
308 PGS./Rated T …$39.99
ISBN: 978-1-302-91434-9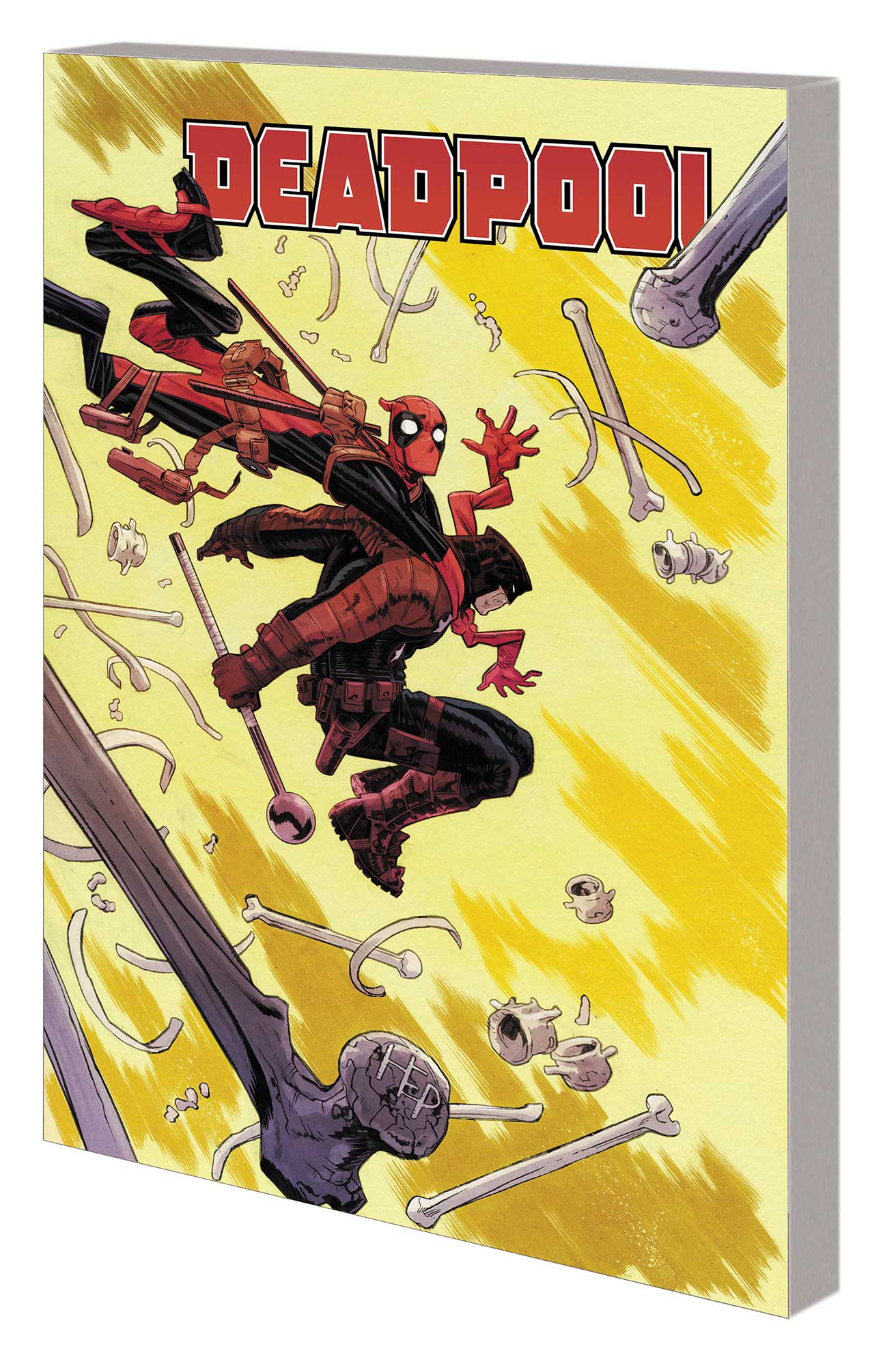 DEADPOOL BY SKOTTIE YOUNG VOL. 2 TPB
Written by SKOTTIE YOUNG
Penciled by NIC KLEIN & SCOTT HEPBURN
Cover by SCOTT HEPBURN
Skottie Young takes Deadpool to new heights of madness! First, Wade Wilson gets his most difficult mission yet: take out Santa Claus! But jolly old St. Nick ain't so jolly no more. He's downright deadly! Then, Deadpool finds himself in the middle of a twisted rivalry between two competing amusement parks. But it's not all fun and games — it's a carnival of carnage! Buy the ticket, take the ride! But when someone steals Wade's heart — literally — the Merc with the Mouth must hire the MU's best private eye, Jessica Jones! You'll never guess where this twisted trail leads! Plus: Say hello to Good Night! He's been taking care of Deadpool's merc jobs before DP can get to them. But Wade's got a plan to stop him, and he's definitely thought it through. For sure. No question. Collecting DEADPOOL (2018) #7-12.
136 PGS./Parental Advisory …$17.99
ISBN: 978-1-302-91173-7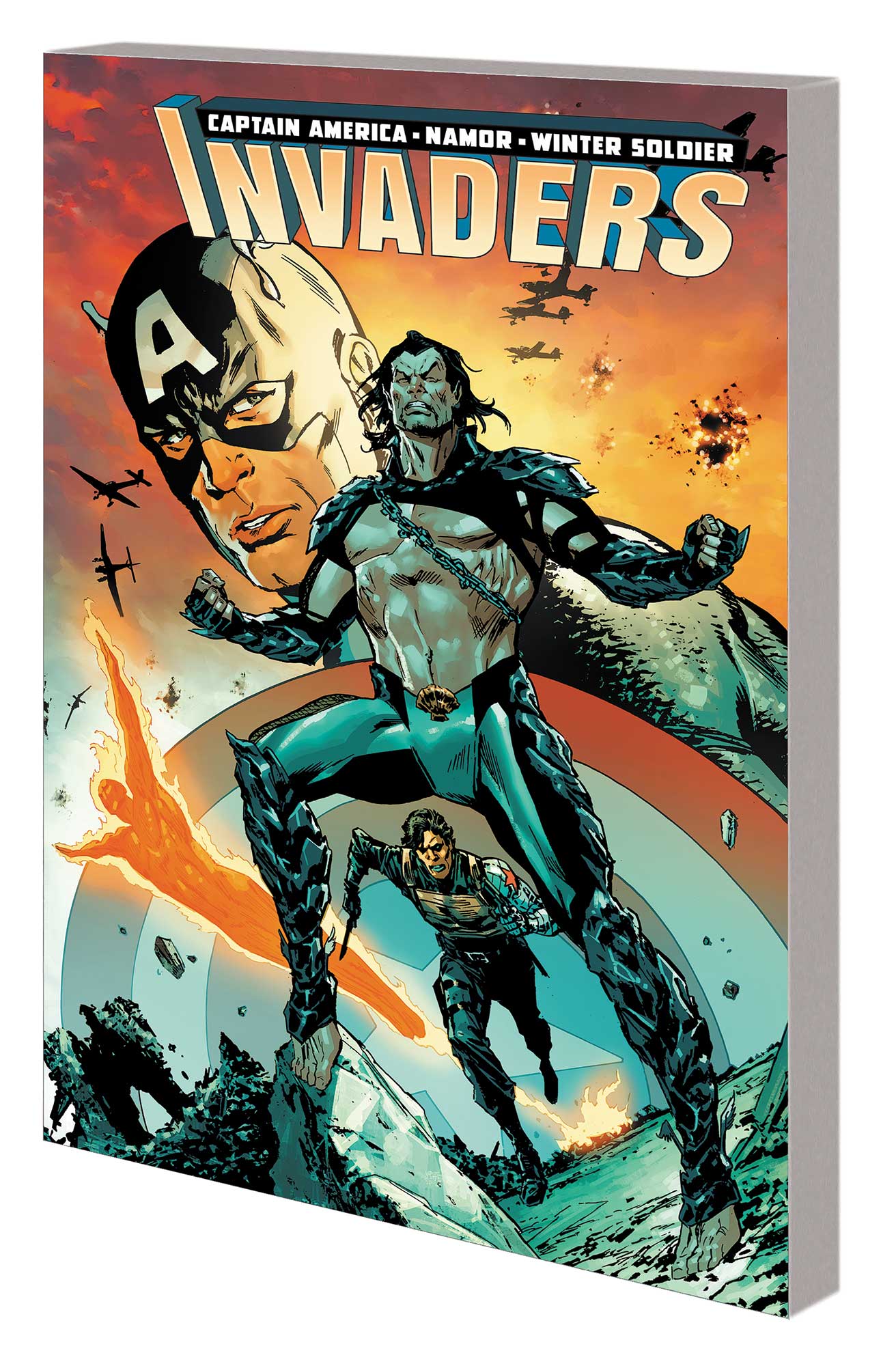 INVADERS VOL. 1: WAR GHOST TPB
Written by CHIP ZDARSKY
Penciled by CARLOS MAGNO & BUTCH GUICE
Cover by BUTCH GUICE
The greatest generation of Marvel heroes is back — to stop one of their own! Captain America. The Human Torch. The Winter Soldier. Namor the Sub-Mariner. They fought together in World War II as the Invaders. But now Namor is the enemy — a global threat more powerful than ever! His deadly plans are as deep and far-reaching as the ocean, and revelations about his past could threaten the Marvel Universe! It's up to Namor's old allies to stop him, but what chance do they have against a man who knows their every move? As the Torch digs deep into Namor's past and Bucky takes on a dangerous mission, Cap takes the direct route — to Atlantis! But the clock is ticking as a new world war looms — one that will reveal the Sub-Mariner's secret history! Collecting INVADERS (2019) #1-6.
136 PGS./Rated T+ …$19.99
ISBN: 978-1-302-91749-4
DAREDEVIL BY CHIP ZDARSKY VOL. 1: TO KNOW FEAR TPB
Written by CHIP ZDARSKY
Penciled by MARCO CHECCHETTO, CHIP ZDARSKY & LALIT KUMAR SHARMA
Cover by JULIAN TOTINO TEDESCO
The next chapter in the ever-surprising saga of Daredevil! After a brush with death, Matt Murdock must piece together his shattered life — and that includes returning to action as Daredevil! But years of trauma have taken their toll, and becoming the guardian of Hell's Kitchen he once was won't be easy. Mistakes will be made along the way — and this time, one might actually prove to be the end of him. Because when a criminal dies, and Daredevil takes the blame, Matt must go on the run in a desperate bid to clear his name! But even he can't outrun judgment forever. And with DD's absence from Hell's Kitchen, the real devils can come out to play. Collecting DAREDEVIL (2019) #1-6.
144 PGS./Rated T+ …$19.99
ISBN: 978-1-302-91498-1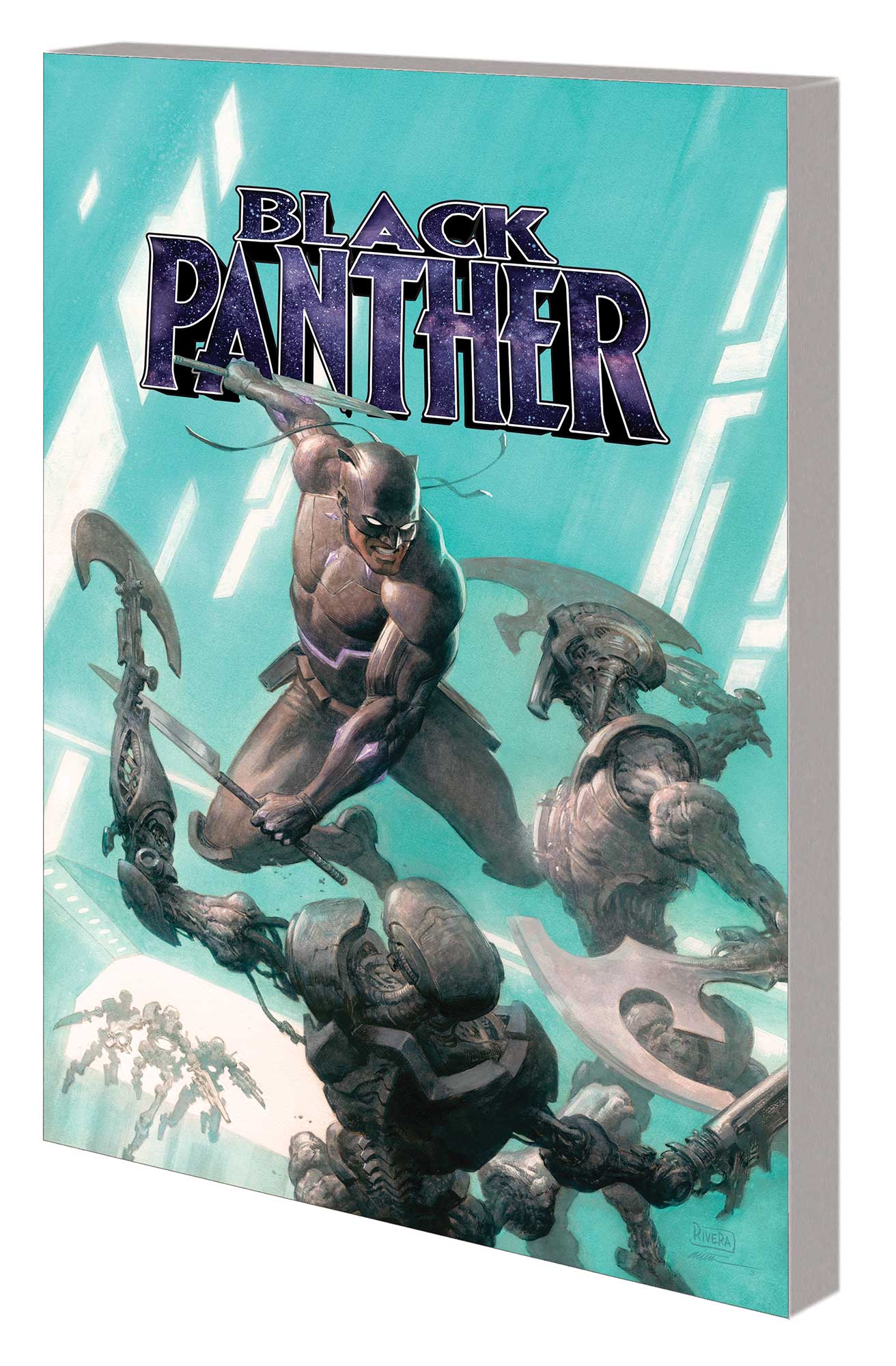 BLACK PANTHER BOOK 7: THE INTERGALACTIC EMPIRE OF WAKANDA PART TWO TPB
Written by TA-NEHISI COATES
Penciled by KEV WALKER & JEN BARTEL
Cover by PAOLO RIVERA
The Maroons strike back! You watched them steal the M'Kraan Shard from the empire. Now the rebels are ready to show who they really are. "He Who Put the Blade Where It Belonged" retakes his rightful title, and the Black Panther is reborn! With the Panther once again among their ranks, they're certain of victory — but at what cost? T'Challa faces a creature of nightmare and journeys to the home world of the Between, the place where N'Jadaka's rise began! But what he learns there will lead him to question the rebellion's very foundation. Will Bast's champion ever be fully restored? Learn at last how the king of Wakanda found himself a slave in the Vibranium mines of a half-familiar world as T'Challa's lost past is revealed! Collecting BLACK PANTHER (2018) #7-12.
136 PGS./Rated T …$17.99
ISBN: 978-1-302-91294-9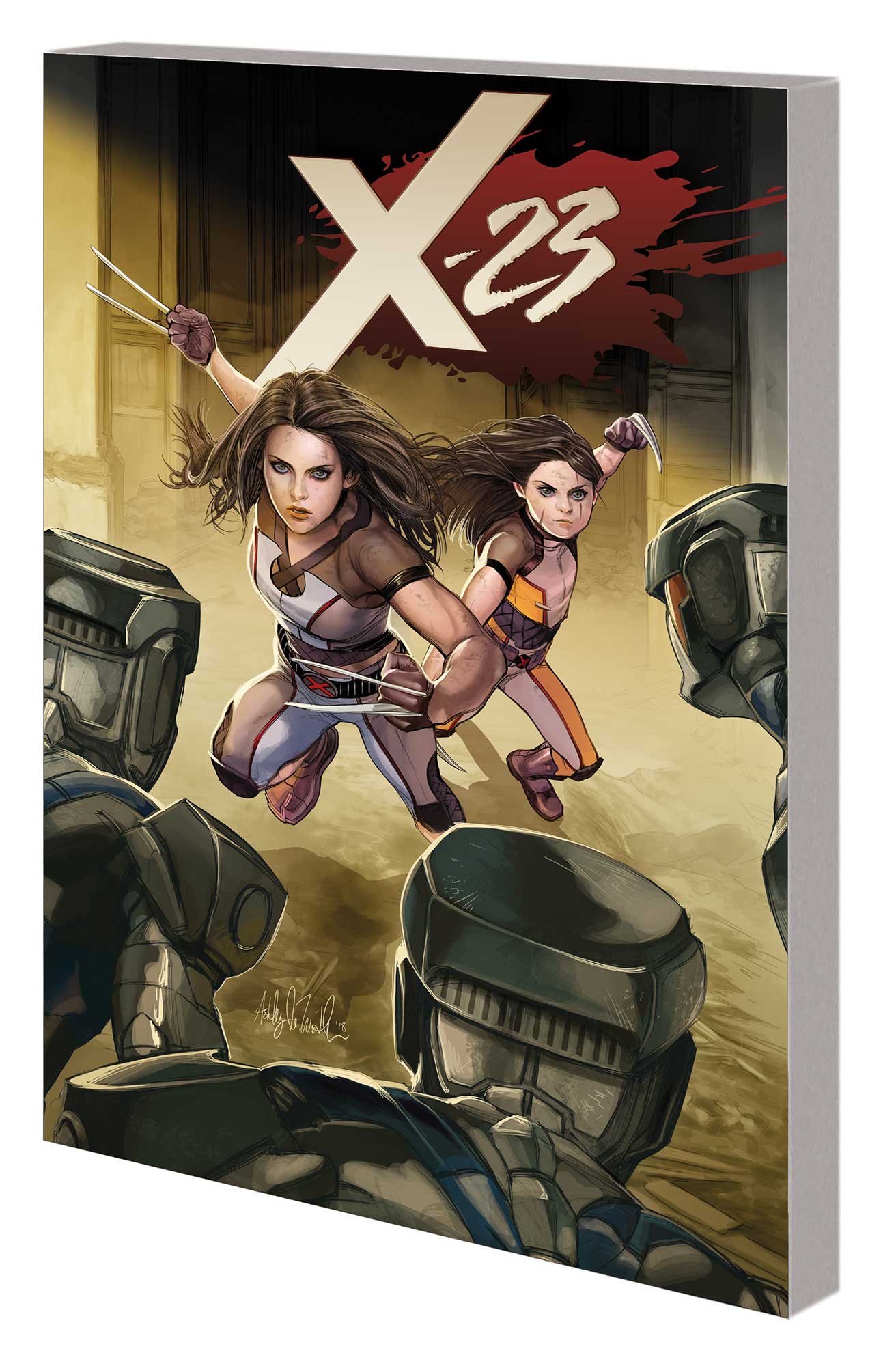 X-23 VOL. 2: X-ASSASSIN TPB
Written by MARIKO TAMAKI
Penciled by DIEGO OLORTEGUI
Cover by ASHLEY WITTER
X-23 vs. Honey Badger! A series of gruesome murders. A killer who disappears without a trace. Laura and Gabby are on the hunt. But when X-23 comes face-to-face with the mysterious X-Assassin, nothing is as it seems! And when Laura and Gabby find the X-Assassin's creators, they might not agree on what to do about this barely human executioner. As Laura investigates its origins and Gabby does her best to find its soul, they quickly discover that this isn't the only threat facing them! What will they do when they encounter an army of genetically altered assassins? And what are the secrets of the shadowy organization called Harvest that threaten to drive a wedge between these two sisters? Is this the end for Laura and Gabby Kinney? Collecting X-23 (2018) #7-12.
136 PGS./Rated T+ …$17.99
ISBN: 978-1-302-91686-2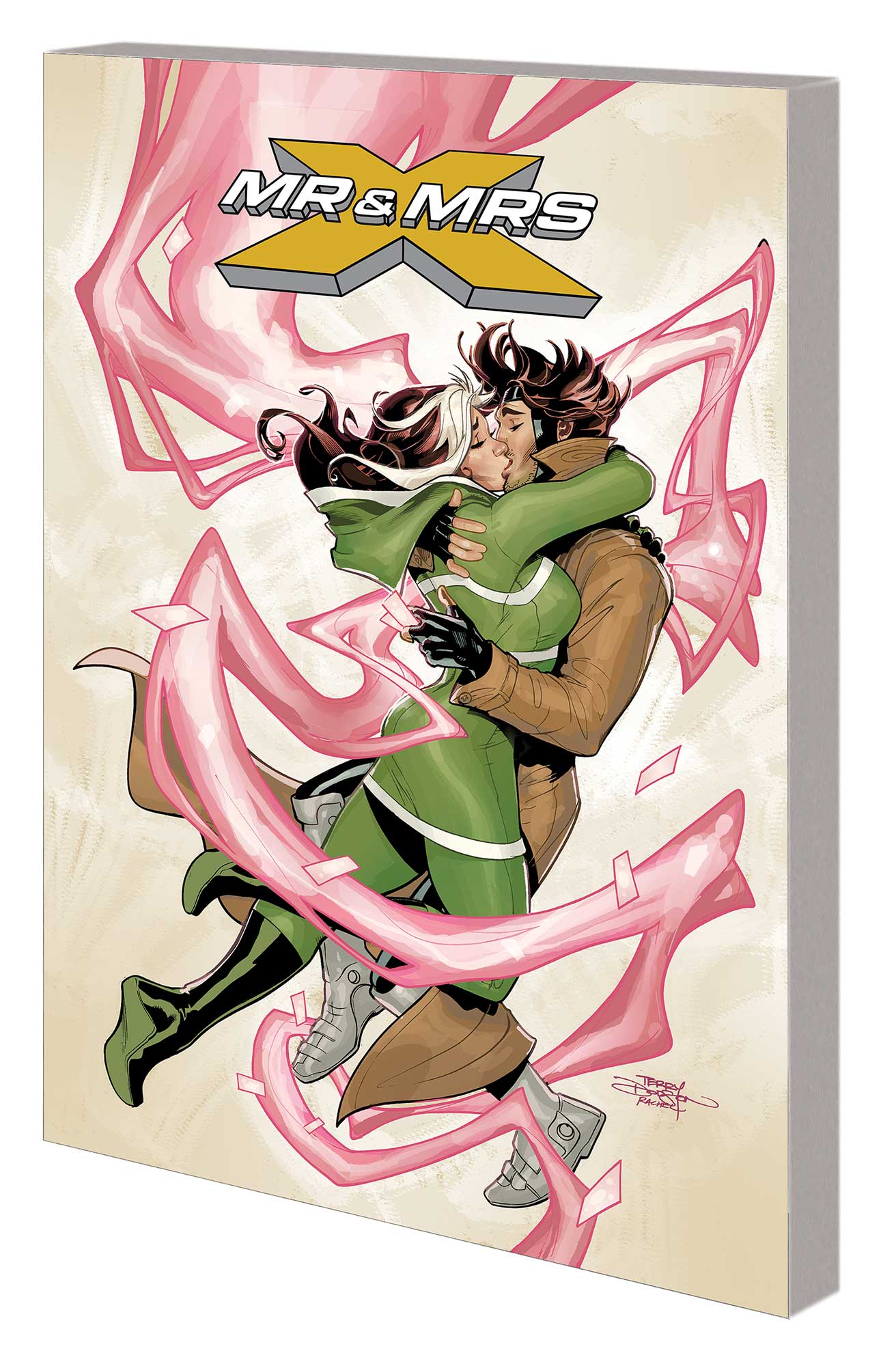 MR. AND MRS. X VOL. 2: GAMBIT AND ROGUE FOREVER TPB
Written by KELLY THOMPSON
Penciled by OSCAR BAZALDUA
Cover by TERRY DODSON
ON SALE AUGUST 2019
Can Rogue and Gambit finally relax and enjoy marital bliss? Not likely! Stuck in the Mojoverse, Rogue and Gambit are forced to relive their greatest hits — and moments from their past that they'd rather forget — but this time for the cameras! And when Spiral joins the fray, whose side is she really on? There's a precious object to steal and an army of Mojo's minions to fight off, but can the hottest couple in the Marvel Universe escape their televised nightmare for new adventures back home — or will they be doomed to rerun hell? The Thieves Guild is waiting for the answer — and they're determined to take what's theirs! Don't bet on it! Collecting MR. AND MRS. X #7-12.
136 PGS./Rated T+ …$17.99
ISBN: 978-1-302-91352-6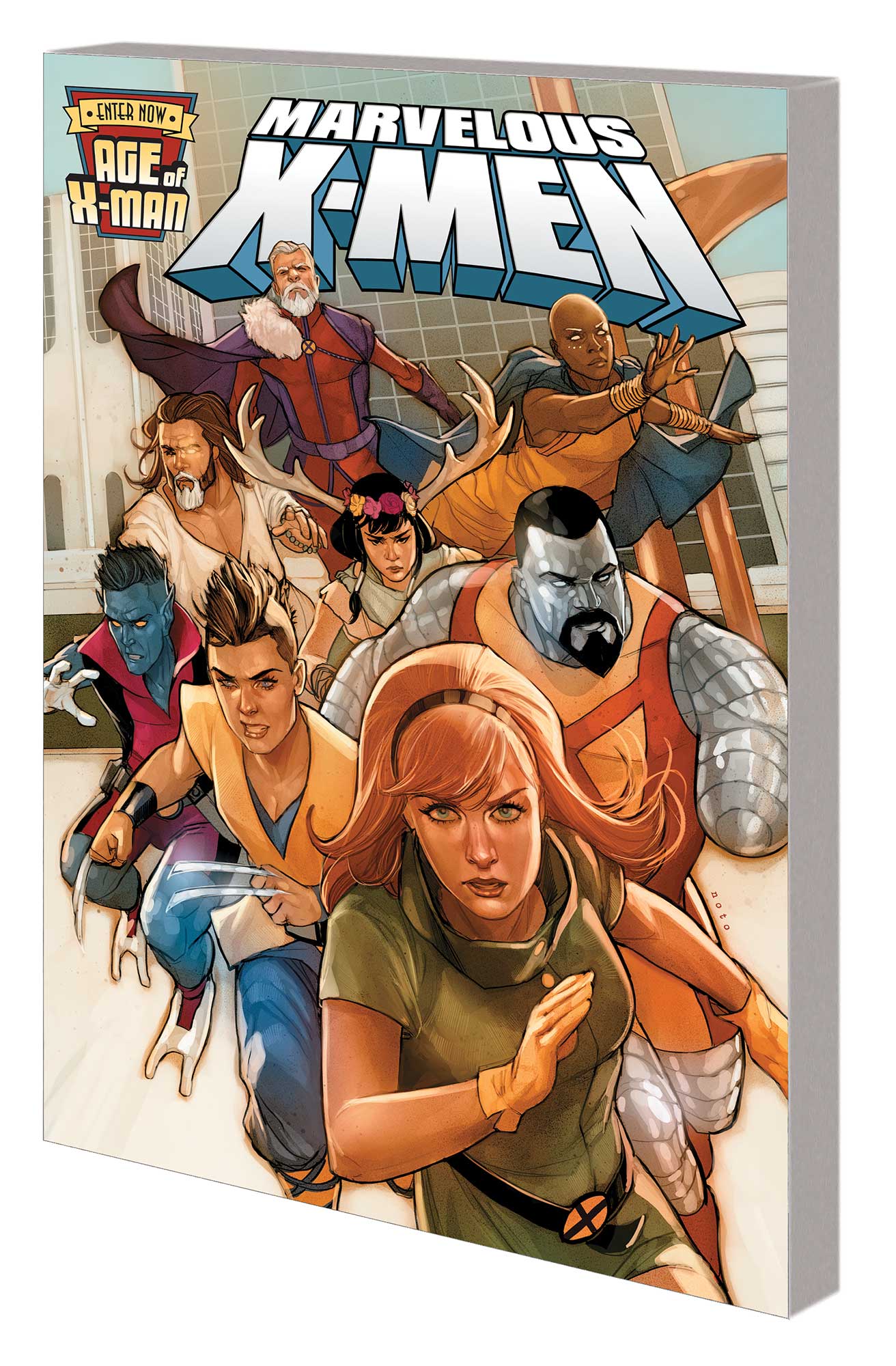 AGE OF X-MAN: THE MARVELOUS X-MEN TPB
Written by ZAC THOMPSON & LONNIE NADLER
Penciled by RAMON ROSANAS, MARCO FAILLA
Cover by PHIL NOTO
ON SALE AUGUST 2019
Enter the Age of X-Man, with the perfect heroes for a perfect world! The X-Men have helped make the planet into a utopia where living in fear and hatred is a thing of the past. All people are united under the banner of mutantkind, and all of mutantkind idolizes the X-Men. Jean Grey! Colossus! Storm! X-23! X-Man! Nature Girl! Magneto! And the amazing Nightcrawler! When danger threatens the world, the Marvelous X-Men set things right for the good of all. And no one dares say otherwise. But when Apocalypse and the X-Tracts sow rebellion in this strangely heavy-handed paradise, can the X-Men quell the insurrection in the name of order? Or will the insidious teachings of En Sabah Nur undermine their hard-fought and tightly-controlled peace? Collecting AGE OF X-MAN: ALPHA and OMEGA, and AGE OF X-MAN: THE MARVELOUS X-MEN #1-5.
192 PGS./Rated T+ …$19.99
ISBN: 978-1-302-91575-9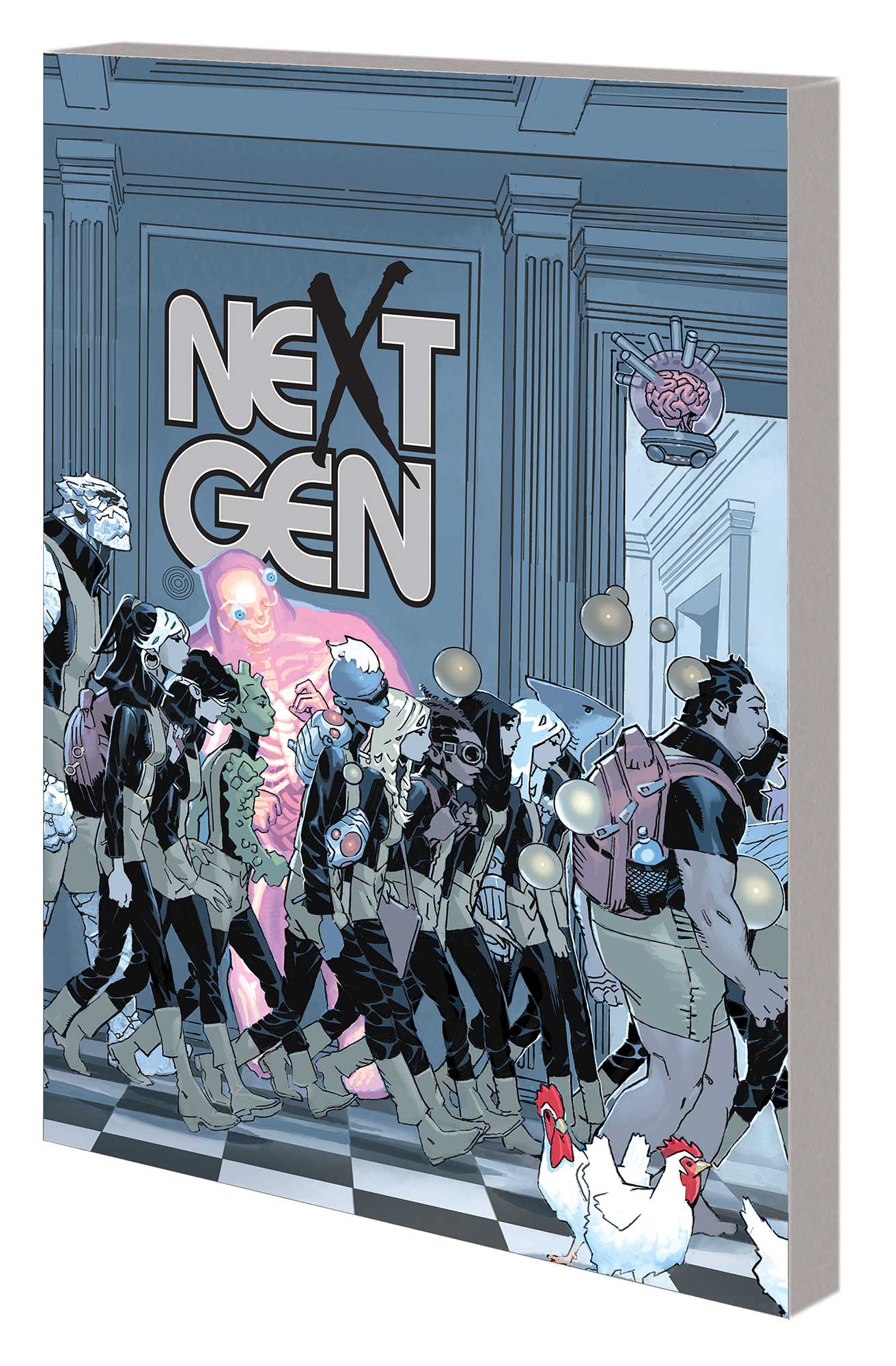 AGE OF X-MAN: NEXTGEN TPB
Written by ED BRISSON
Penciled by MARCUS TO
Cover by CHRIS BACHALO
ON SALE AUGUST 2019
Glob Herman, Armor, Anole and Rockslide enter the Age of X-Man! In a utopian paradise, the Summers Institute for Higher Learning is the premier school for the mutant community across the globe. Attendance is mandatory for all mutant children as they learn to become the next generation of marvelous X-Men. But even in a perfect society of peace and harmony, teenagers will always find a way to rebel, and the Summers Institute's newest students are starting to question their memories. When the curtain is pulled back, can Glob keep the team together long enough to unlock the secrets of their world? As the Age of X-Man starts coming apart at the seams, the students must confront the truth behind their reality! But what will they sacrifice for freedom? Collecting AGE OF X-MAN: NEXTGEN #1-5.
112 PGS./Rated T+ …$15.99
ISBN: 978-1-302-91576-6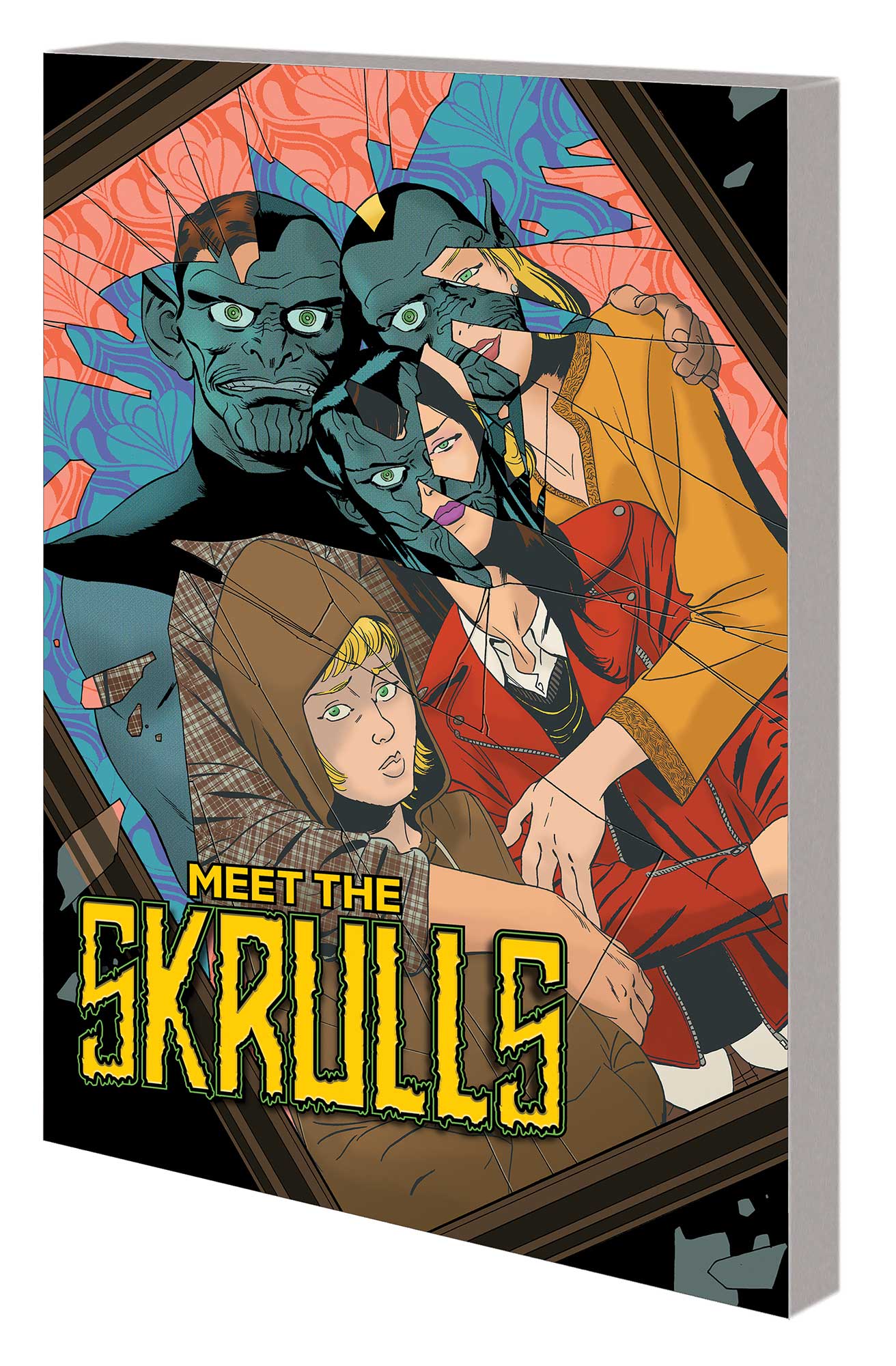 MEET THE SKRULLS TPB
Written by ROBBIE THOMPSON
Penciled by NIKO HENRICHON
Cover by MARCOS MARTIN
Who do you trust? The Warners are your typical family. Dad works at Stark Enterprises. Mom works in a senator's office. The girls are students at Stamford High School. The only thing that makes them different is…they're shape-shifting alien Skrulls who have infiltrated our society to pave the way for invasion! Madison Warner's latest mission brings her to the most dangerous place imaginable: a slumber party! Meanwhile, dad Carl faces Iron Man — so just another normal week for the Warners. But what could leave them as a house divided — and exposed? Will the mysterious Man in the Hat be their exterminator — or their salvation? And what is Project Blossom?! Experience the story everyone will be talking about for years to come — a bold new look at the Skrulls that will test even your loyalty! Collecting MEET THE SKRULLS #1-5.
112 PGS./Rated T+ …$15.99
ISBN: 978-1-302-91713-5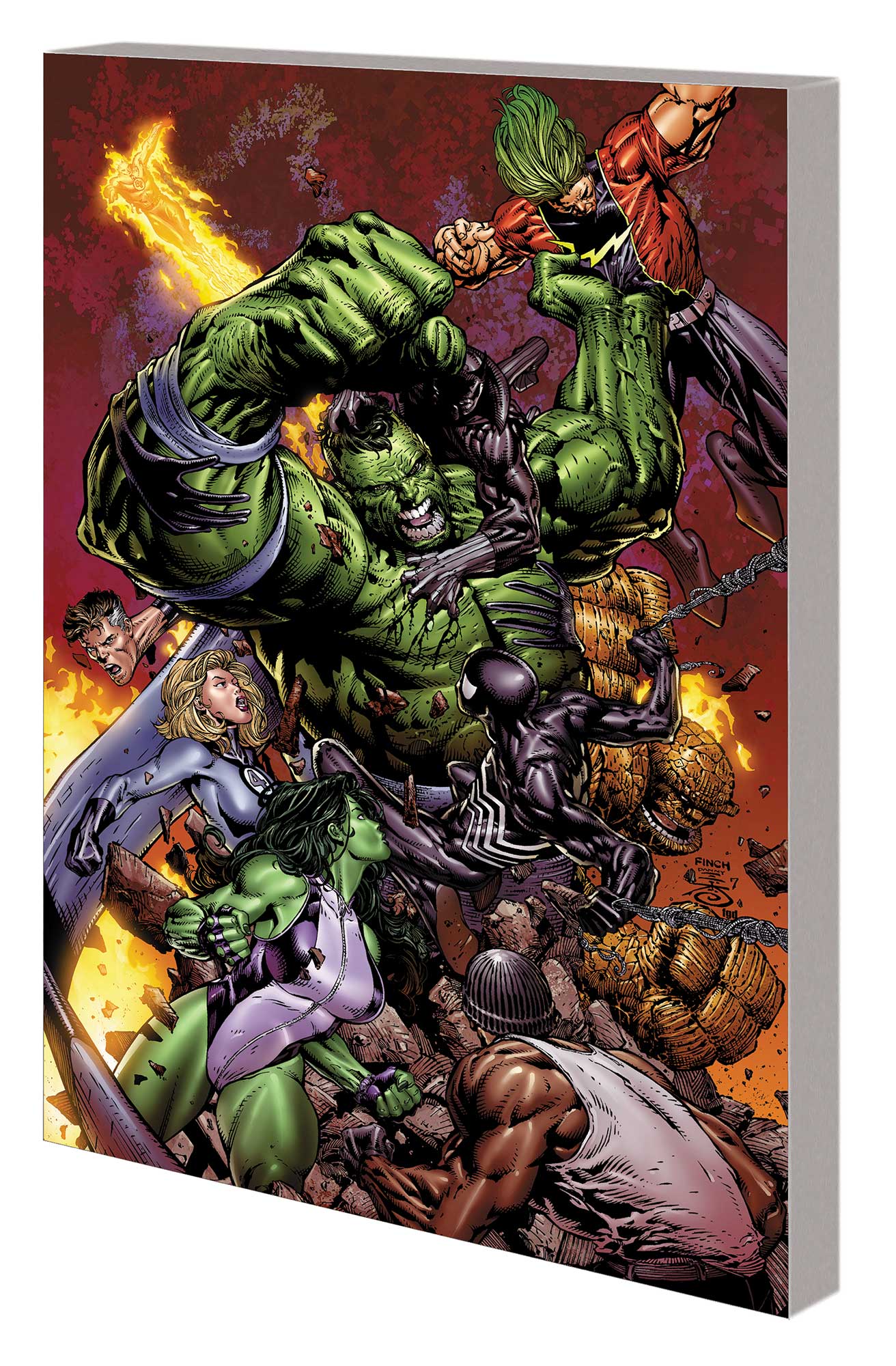 HULK: WORLD WAR HULK TPB (NEW PRINTING)
WRITTEN BY GREG PAK
PENCILED BY JOHN ROMITA JR.
COVER BY DAVID FINCH
An epic story of anger unbound! Exiled by a group of Marvel heroes to the savage alien planet of Sakaar, the Hulk raged, bled and conquered — rising from slave to gladiator to king. Now the Hulk returns to Earth to wreak his terrible vengeance on Iron Man, Reed Richards, Doctor Strange and Black Bolt — and anyone else who gets in the way. Stronger than ever, accompanied by his monstrous Warbound gladiator allies, and possessed by the fiercest and purest rage imaginable, the Hulk may just tear this stupid planet in half. Collecting WORLD WAR HULK #1-5.
224 PGS./Rated T+ …$24.99
ISBN: 978-1-302-92077-7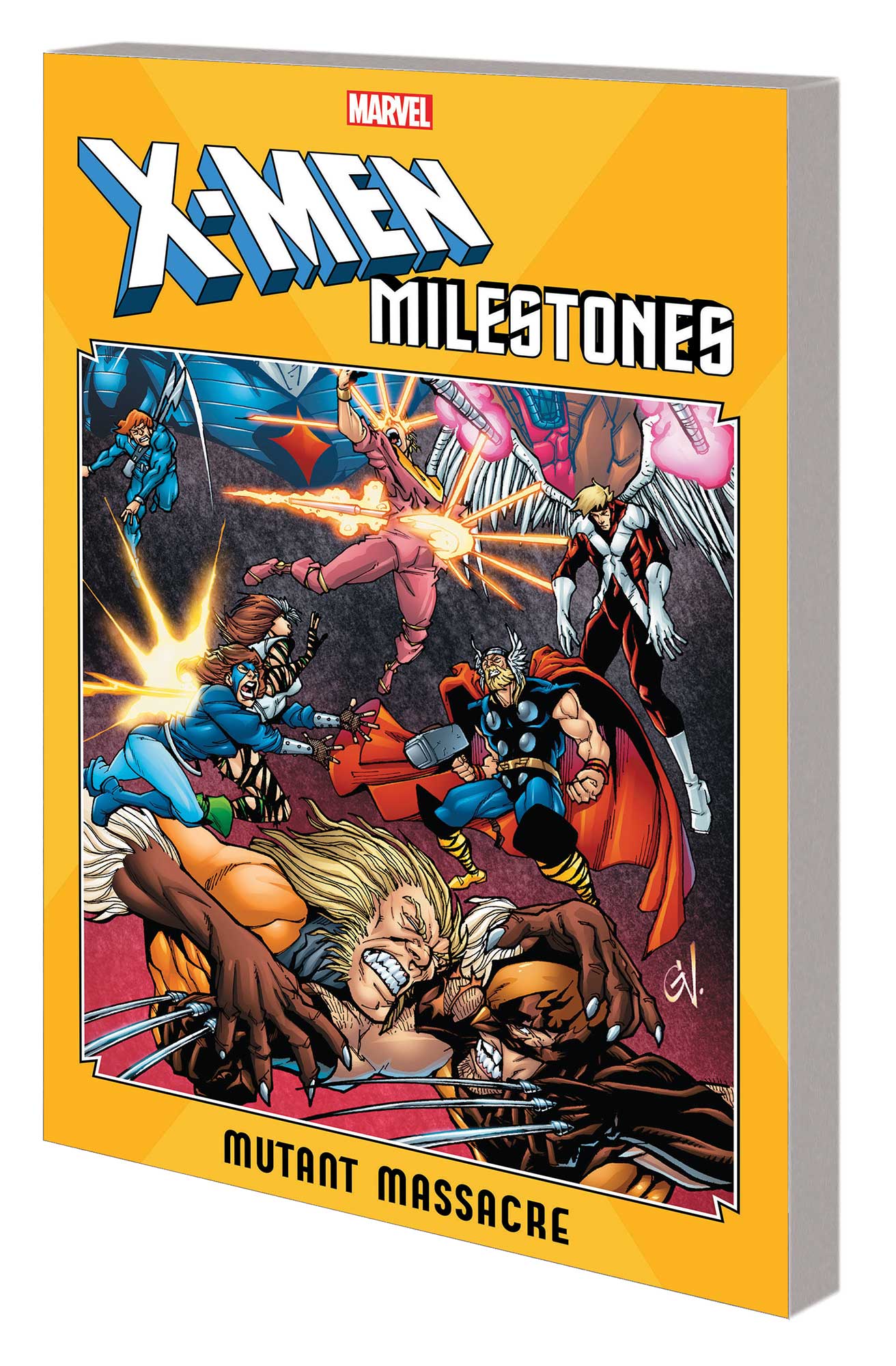 X-MEN MILESTONES: MUTANT MASSACRE TPB
Written by CHRIS CLAREMONT, LOUISE SIMONSON, WALTER SIMONSON & ANN NOCENTI
Penciled by JOHN ROMITA JR., BRET BLEVINS, RICK LEONARDI, ALAN DAVIS, BARRY WINDSOR-SMITH, TERRY SHOEMAKER, WALTER SIMONSON, BUTCH GUICE, SAL BUSCEMA & JON BOGDANOVE
Cover by GUS VAZQUEZ
The biggest and best adventures of Marvel's mighty mutants — these are the X-Men Milestones! The Morlocks: a community of mutant outcasts living beneath the streets of Manhattan. The Marauders: professional mutant assassins, employed by a mysterious evil to wipe out the Morlocks! Between the two stand some of Marvel's most heroic: the X-Men, X-Factor, the New Mutants, Power Pack, Daredevil and Thor! But taken by surprise by the Marauders' overwhelming onslaught, can these disparate heroes hope to save any of the Morlocks? And even if they can, what will be the cost? Be there as the X-Men are shattered, Thor is grievously wounded and the Angel is changed forever! Collecting UNCANNY X-MEN (1981) #210-214, X-FACTOR (1986) #9-11, NEW MUTANTS (1983) #46, THOR (1966) #373-374, POWER PACK (1984) #27 and DAREDEVIL (1964) #238.
320 PGS./Rated T …$34.99
ISBN: 978-1-302-91853-8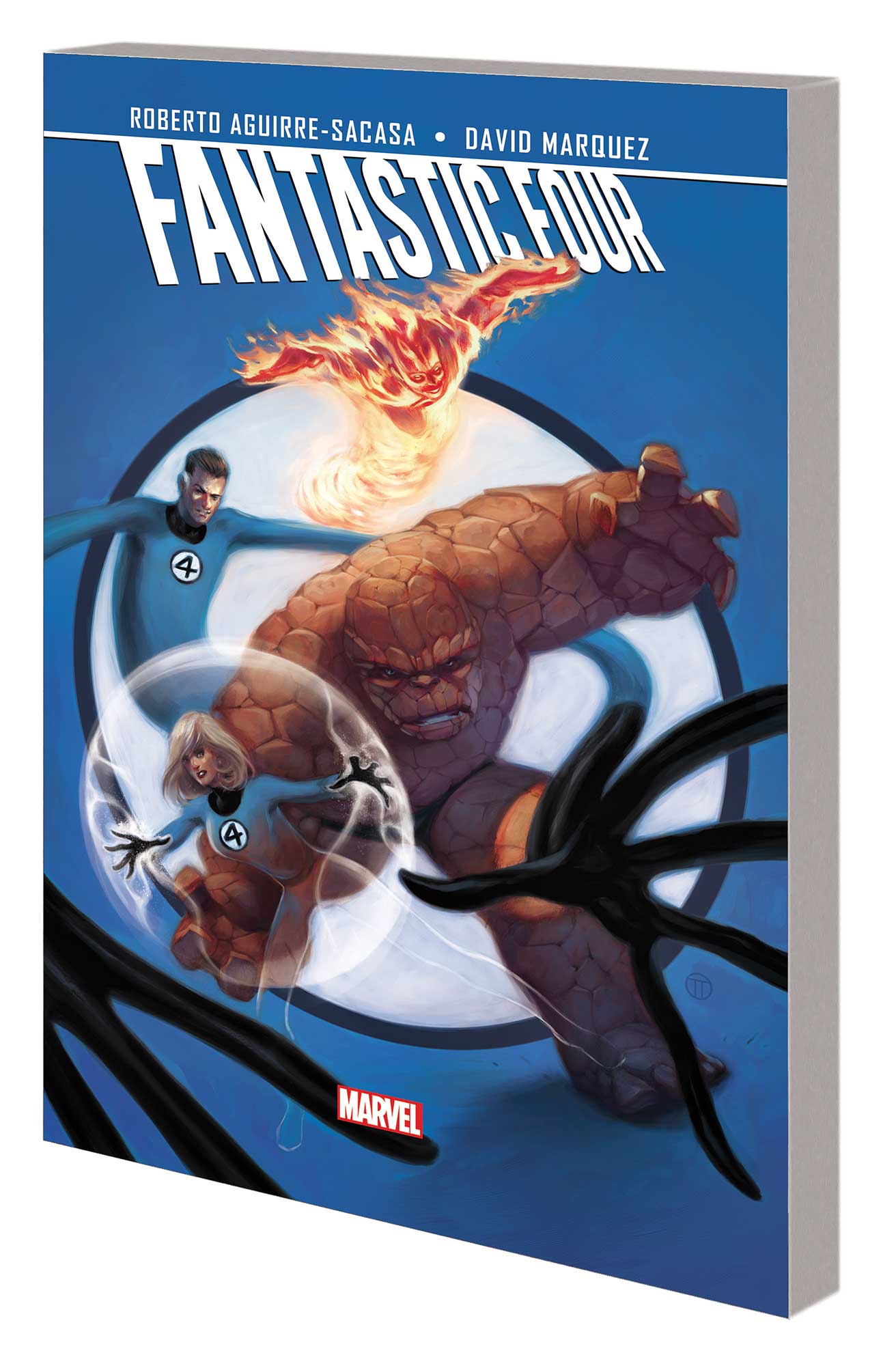 FANTASTIC FOUR: FANTASTIC ORIGINS TPB
Written by ROBERTO AGUIRRE-SACASA with Dan Slott
Penciled by DAVID MARQUEZ with Sara Pichelli
Cover by JULIAN TOTINO TEDESCO
In Manhattan's most famous skyscraper, the Baxter Building, scientific genius Reed Richards hatches a plan that will change the lives of those he loves most — and the course of human history — in ways no one could have imagined! Revisit the story that irrevocably altered comics and pop culture, retold in modern style! Join Reed Richards, Susan Storm, Johnny Storm and Ben Grimm as they travel to the stars — and return with fantastic powers! And witness the FF's cataclysmic first battles with the Mole Man, Doctor Doom and Prince Namor, the mysterious Sub-Mariner, in a way you've never seen before. You only think you know the story!
136 PGS./Rated T+ …$15.99
ISBN: 978-0-7851-5642-0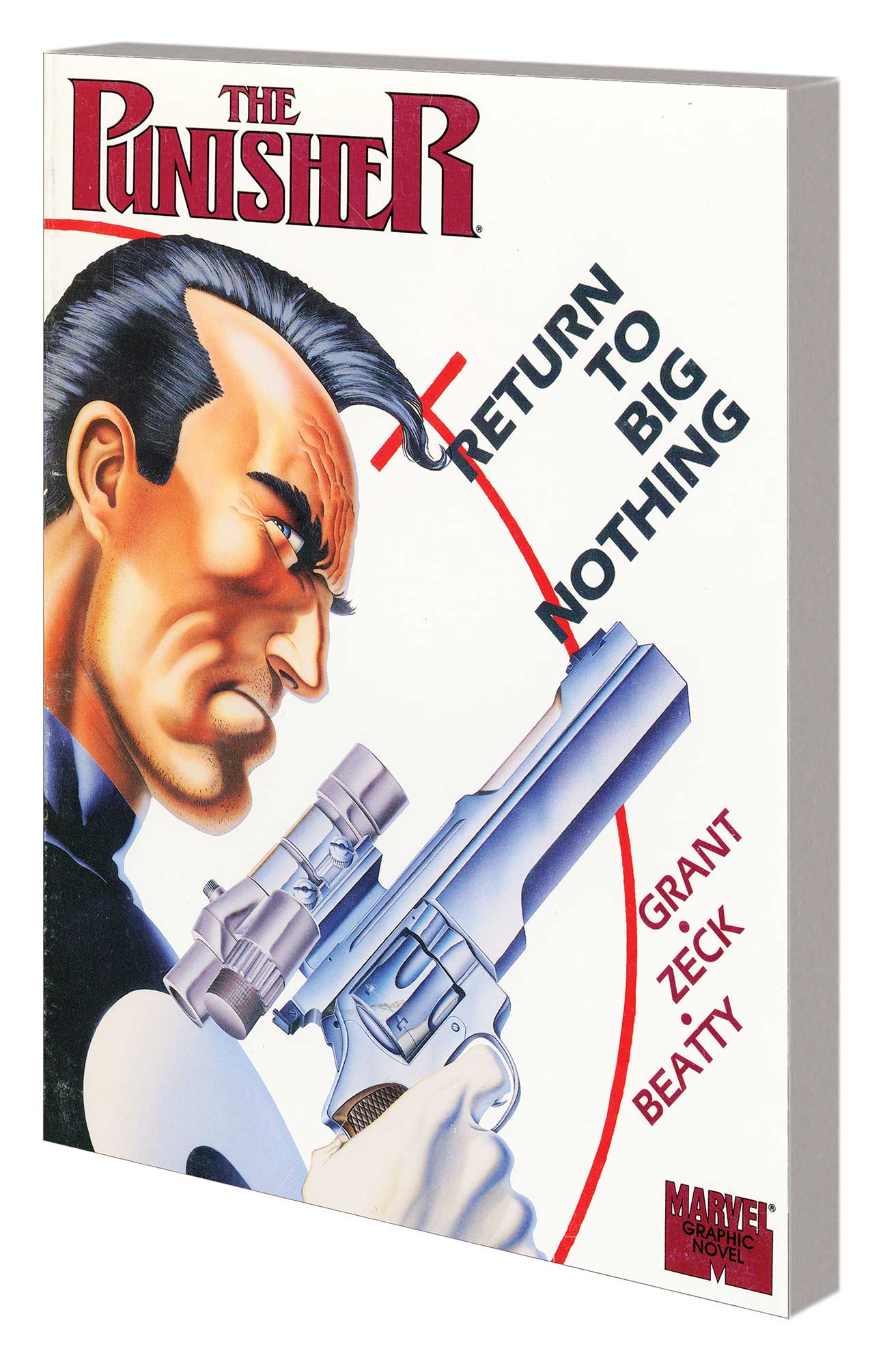 PUNISHER: RETURN TO BIG NOTHING TPB
Written by STEVEN GRANT, JO DUFFY & MIKE BARON
Penciled by MIKE ZECK, JORGE ZAFFINO & BILL REINHOLD
Cover by MIKE ZECK
Frank Castle's relentless war continues in a trio of hard-hitting graphic novels! First, in a modern classic reuniting the creative team behind the Punisher's first solo series, Frank has a run-in with an old sergeant that takes him back to his Vietnam days — but this time they're on opposite sides! Then, a car accident leads to a killing spree, with the Punisher at the center of it — but will the members of a Japanese assassins guild become his allies, or are they out for Frank's blood? And a secret society is using murder to further its political ends — but slaughtering an innocent family puts its members in the Punisher's sights! From brutal hand-to-hand combat to aerial dogfights, these extra-length epics have it all! Collecting EPIC GRAPHIC NOVEL: PUNISHER — RETURN TO BIG NOTHING, MARVEL GRAPHIC NOVEL: PUNISHER — ASSASSIN'S GUILD and MARVEL GRAPHIC NOVEL: PUNISHER — INTRUDER.
208 PGS./Rated T+ …$24.99
ISBN: 978-1-302-91896-5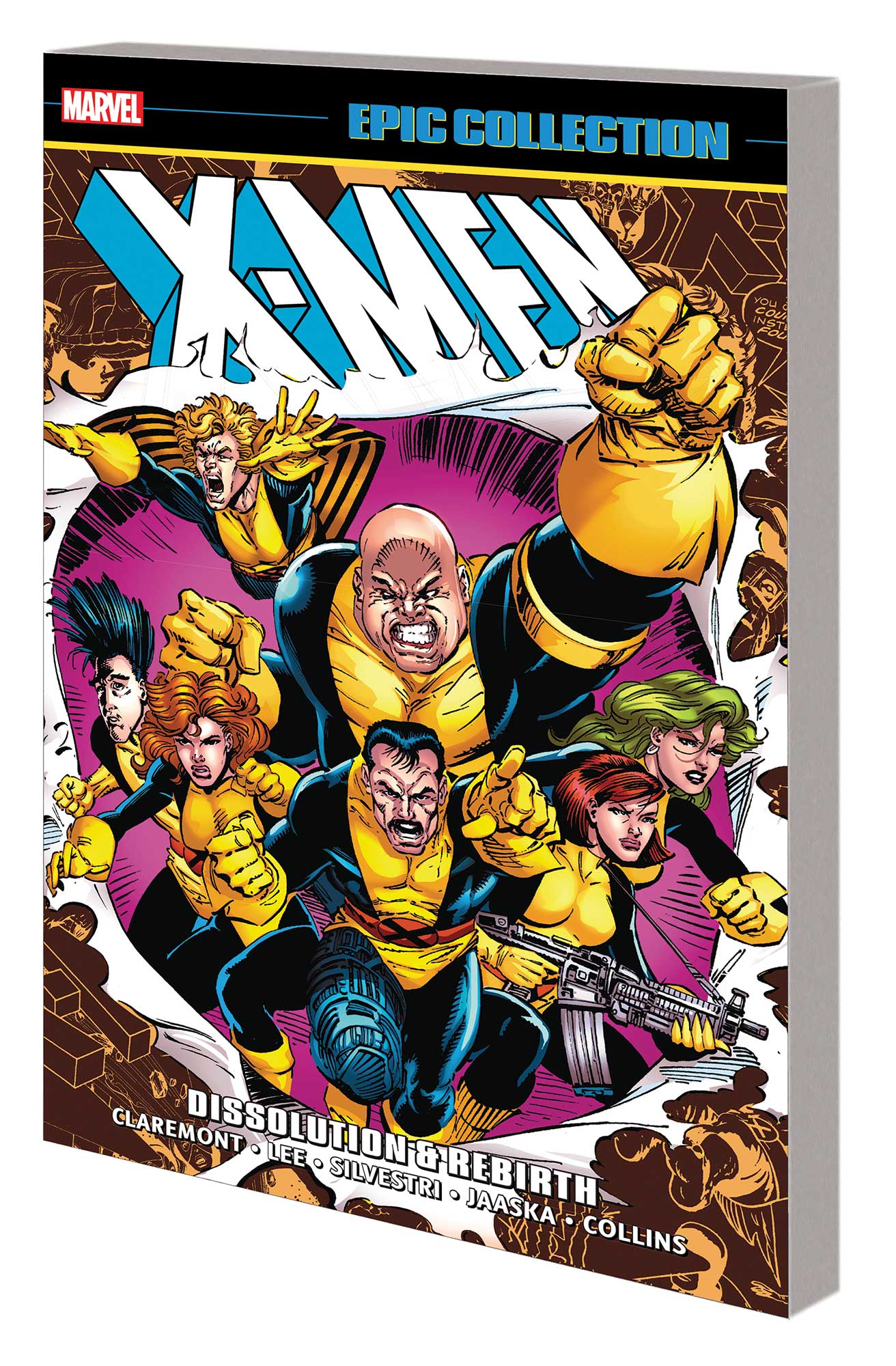 X-MEN EPIC COLLECTION: DISSOLUTION & REBIRTH TPB
Volume #17 in the X-Men Epic Collections
Written by CHRIS CLAREMONT
Penciled by JIM LEE, MARC SILVESTRI, RICK LEONARDI, KIERON DWYER, BILL JAASKA & MIKE COLLINS
Cover by JIM LEE
Outback — and out-gunned! The X-Men are brought to their lowest point as the team slowly breaks apart — but who will rise to take their place? When Nanny attacks the X-Men's Australian base, tragedy strikes for Storm! The cyborg Reavers take their revenge — and they've got brutal plans for Wolverine! The mystical Siege Perilous heralds a fresh start for the besieged mutants, but Psylocke will find herself transformed into the Mandarin's ninja assassin! Can Jubilee and a grievously injured Wolverine bring her back to the light? Meanwhile, a new team forms on Muir Island, but Legion's secret means tragedy for Freedom Force! Banshee and Forge begin a quest for the missing X-Men, but they'll encounter more than they expected! And the mutant thief Gambit makes his uncanny entrance! Superstar Jim Lee debuts for an X-citing new era! Collecting UNCANNY X-MEN (1981) #248-267.
488 PGS./Rated T …$39.99
ISBN: 978-1-302-91847-7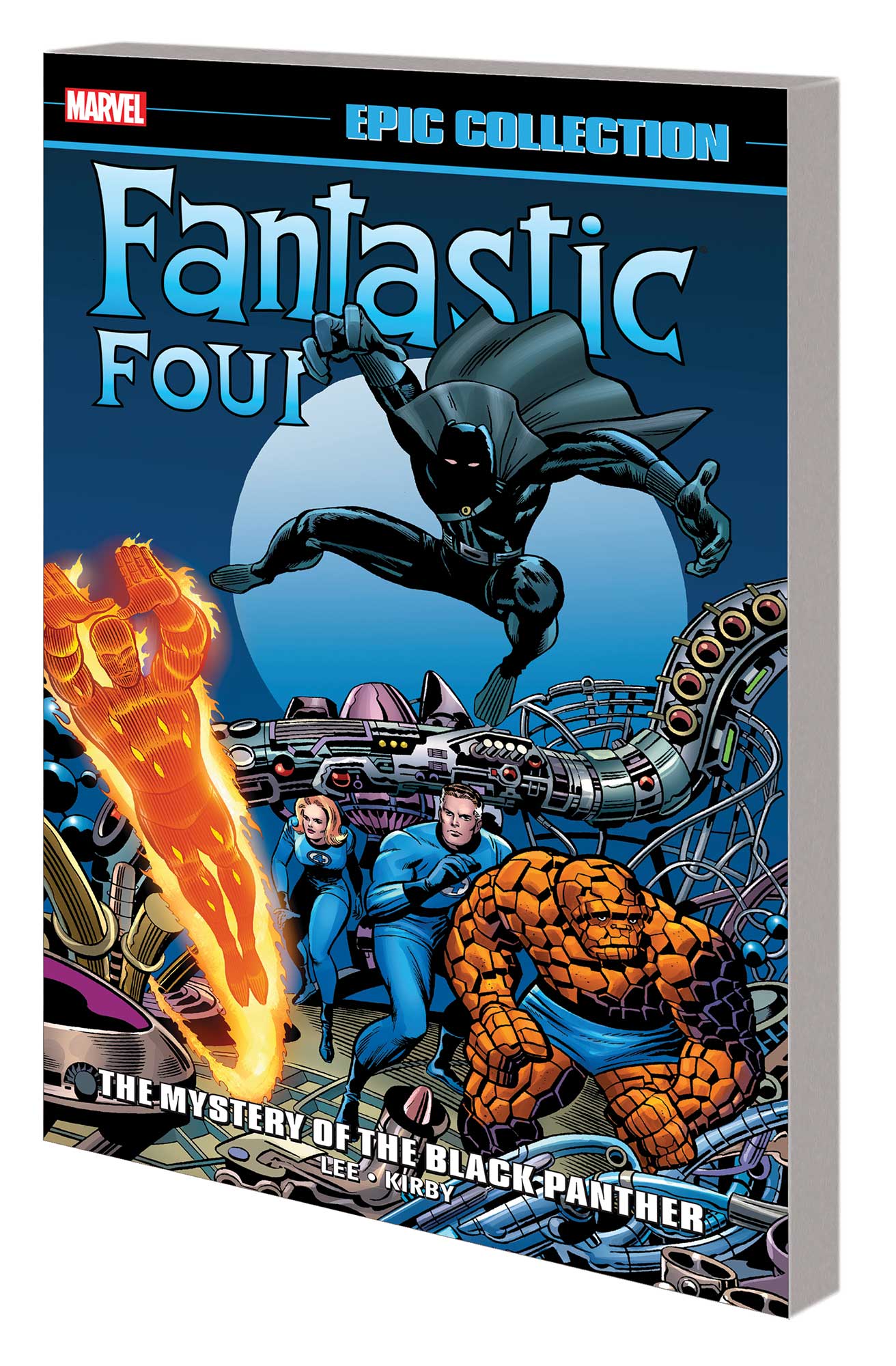 FANTASTIC FOUR EPIC COLLECTION: THE MYSTERY OF THE BLACK PANTHER TPB
Volume #4 in the Fantastic Four Epic Collection
Written by STAN LEE
Penciled by JACK KIRBY
Cover by JACK KIRBY
Stan Lee and Jack Kirby unveil yet another unmatched Marvel milestone: the debut of the world's first African super hero, the Black Panther — and his kingdom of Wakanda! And that's just the start of it all, as the Thing goes toe-to-toe with the Silver Surfer, the Human Torch takes on his 1940s namesake and the FF must face Doctor Doom — who's armed with the Silver Surfer's Power Cosmic! Plus: Experience another instant classic with the first appearances of Blastaar, the alien Kree, Ronan the Accuser, Sentry 456 and that spaghetti-headed wonder, the Supreme Intelligence! And if all that wasn't enough, the utopian scientists of the Enclave unleash the golden being called Him — the man who will one day become known as Adam Warlock! Collecting FANTASTIC FOUR (1961) #52-67 and ANNUAL #4-5, and material from NOT BRAND ECHH #1 and #5.
448 PGS./All Ages …$39.99
ISBN: 978-1-302-91556-8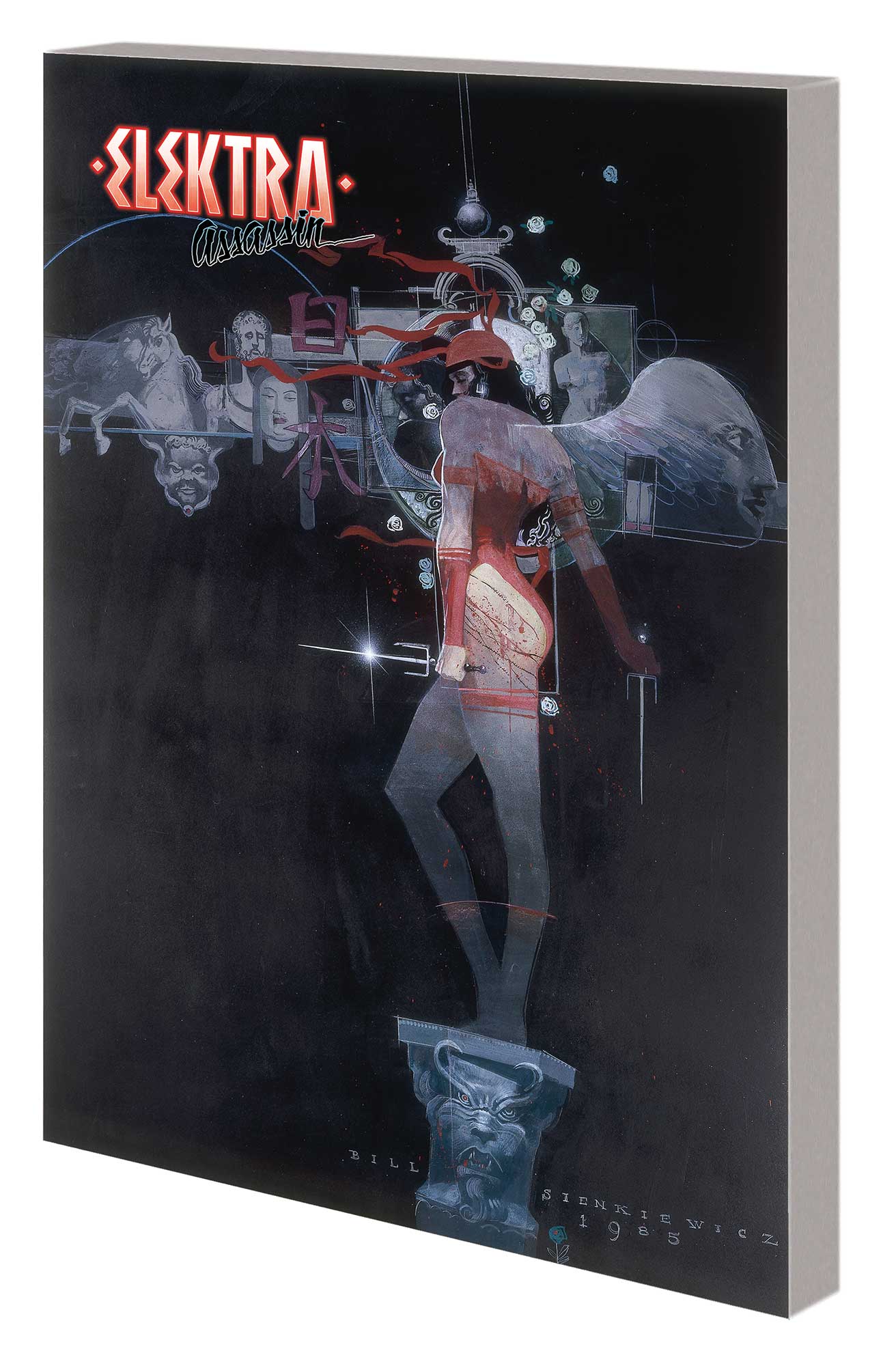 ELEKTRA: ASSASSIN TPB NEW PRINTING!
Written by FRANK MILLER
Penciled by BILL SIENKIEWICZ
Cover by BILL SIENKIEWICZ
Meet Elektra Natchios. This intriguing young woman has played equally intriguing roles throughout her life: gymnast. Martial artist. Ninja. Assassin! Trained in the deadliest of arts and renowned as the world's finest killer, Elektra remains an enigma even to herself. Now, relive her first solo adventure, an epic crafted by two of comics' greatest innovators: Frank Miller and Bill Sienkiewicz! An unconscious woman washes ashore off the coast of a small Central American country. Two policemen are strangled. A diplomat is assassinated. A S.H.I.E.L.D. agent is brutally dismembered. Unrelated events? Hardly. Elektra has returned — and she's back with a vengeance! Prepare for a psychological excursion through the mind, body and soul of the world's most dangerous woman! Collecting ELEKTRA: ASSASSIN #1-8.
296 PGS./Explicit Content …$19.99
ISBN: 978-1-302-91868-2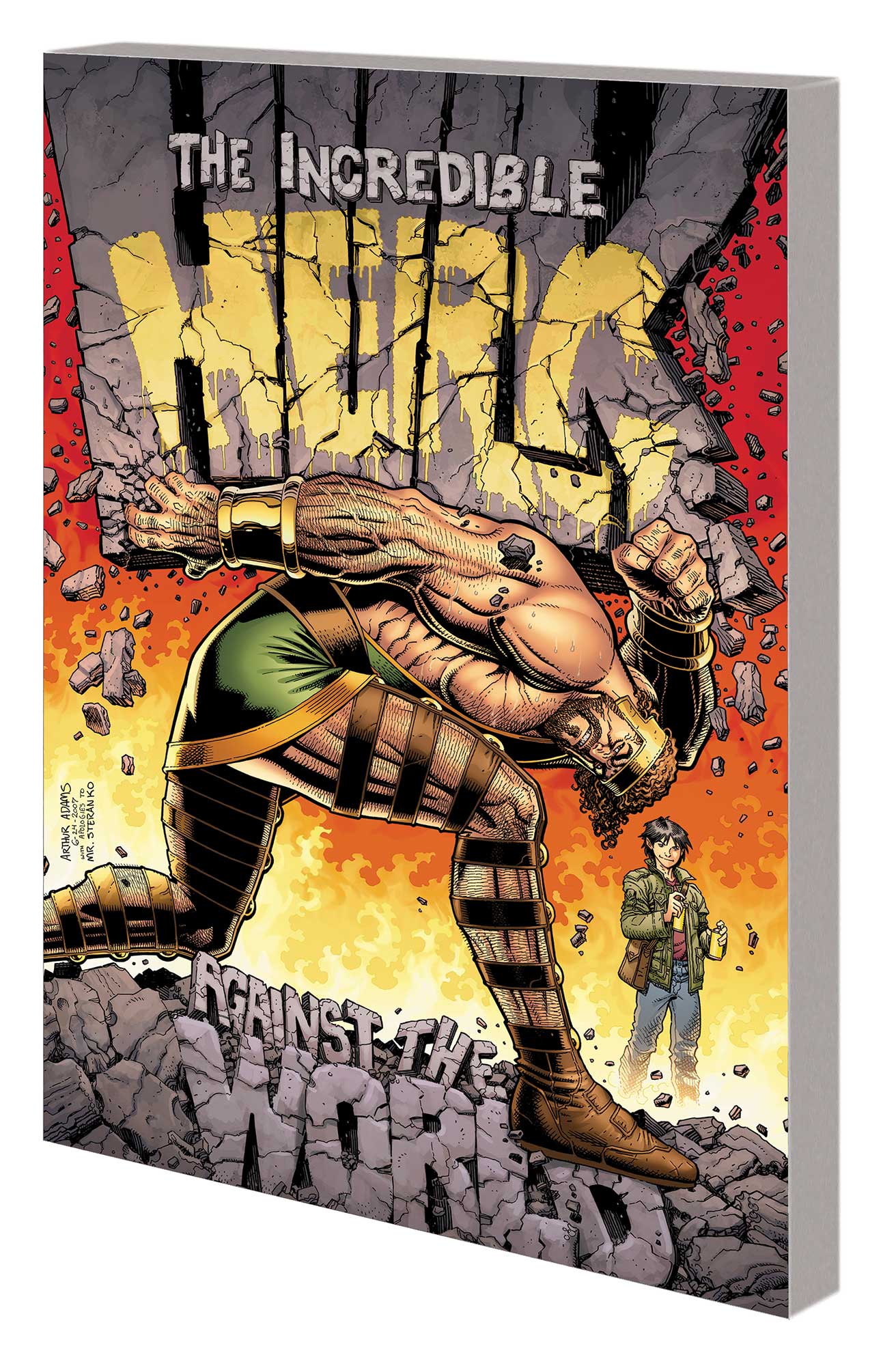 INCREDIBLE HERCULES: THE COMPLETE COLLECTION VOL. 1 TPB
Written by GREG PAK, JEFF PARKER, FRED VAN LENTE & PETER DAVID
Penciled by GARY FRANK, LEONARD KIRK, CARLO PAGULAYAN, KHOI PHAM, RAFA SANDOVAL, JUAN SANTACRUZ & MORE
Cover by ARTHUR ADAMS
Smashing out of the events of WORLD WAR HULK, the legendary Hercules takes center stage! Young genius Amadeus Cho recruits Hercules to help the Hulk — but when the dust settles, Herc and Cho find themselves outlaws! And the situation is further inflamed by Cho's grudge against S.H.I.E.L.D. and Herc's feud with his estranged half-brother, Ares, god of war! Then, the Greek Goliath assembles the godliest super-team ever to take on the deities of the invading Skrulls! Prepare for the pantheon-pounding premiere of…the God Squad! But who among them is a traitor? Plus: Untold tales of Hercules vs. Hulk — and Hulk vs. the Champions! And the excellent origin of Amadeus Cho! Collecting INCREDIBLE HULK (2000) #106-112, INCREDIBLE HERCULES #113-120 and HULK VS. HERCULES: WHEN TITANS COLLIDE; and material from GIANT-SIZE HULK (2006) #1, AMAZING FANTASY (2004) #15 and INCREDIBLE HULK (2000) #100.
464 PGS./Rated T+ …$39.99
ISBN: 978-1-302-91866-8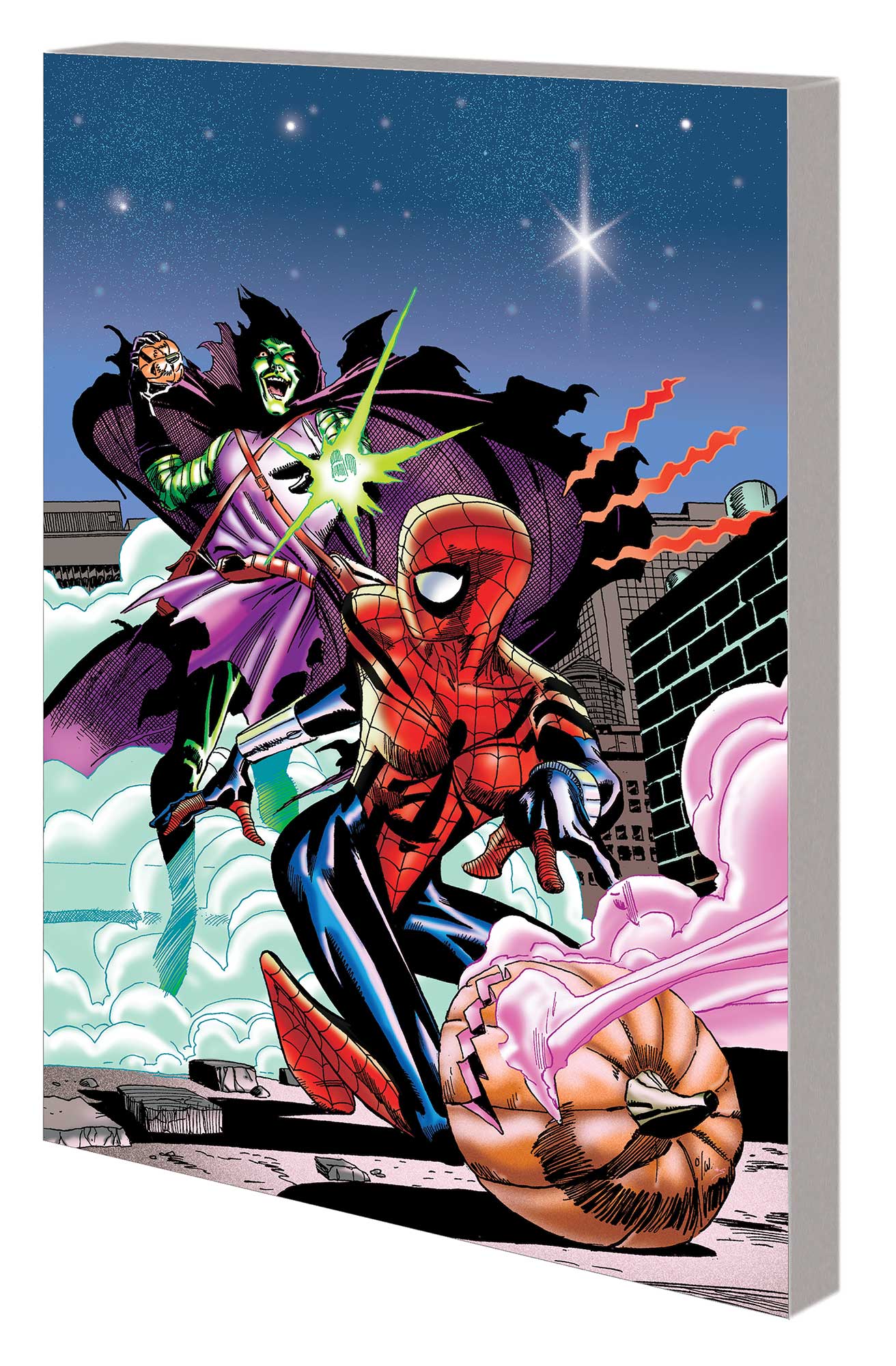 SPIDER-GIRL: THE COMPLETE COLLECTION VOL. 2 TPB
Written by TOM DEFALCO, RON FRENZ & PAT OLLIFFE
Penciled by PAT OLLIFFE & RON FRENZ
Cover by PAT OLLIFFE
Continuing the far-out future adventures of May "Mayday" Parker, the daughter of Peter and Mary Jane! Will the spectacular Spider-Girl be the only member of the Parker clan to wear the webs when the villainous Kaine resurfaces? The Raptor strikes, the Buzz flies in and the Soldiers of the Serpent spread hate — but nothing could be worse than the return of Spider-Man's archfoe, the Green Goblin! But who's under the mask now?! On top of it all, May must contend with threats like Earthshaker, Funny Face and Dragonfist! What is this martial-arts maestro's connection to Danny Rand? Meanwhile, May's deadliest foes band together as…the Savage Six! Or is it Seven?! Will they be the end of Spider-Girl? Plus: The man called Nova! Avengers Next! The Steel Spider! And more! Collecting SPIDER-GIRL (1998) #16-32.
432 PGS./Rated T …$39.99
ISBN: 978-1-302-91844-6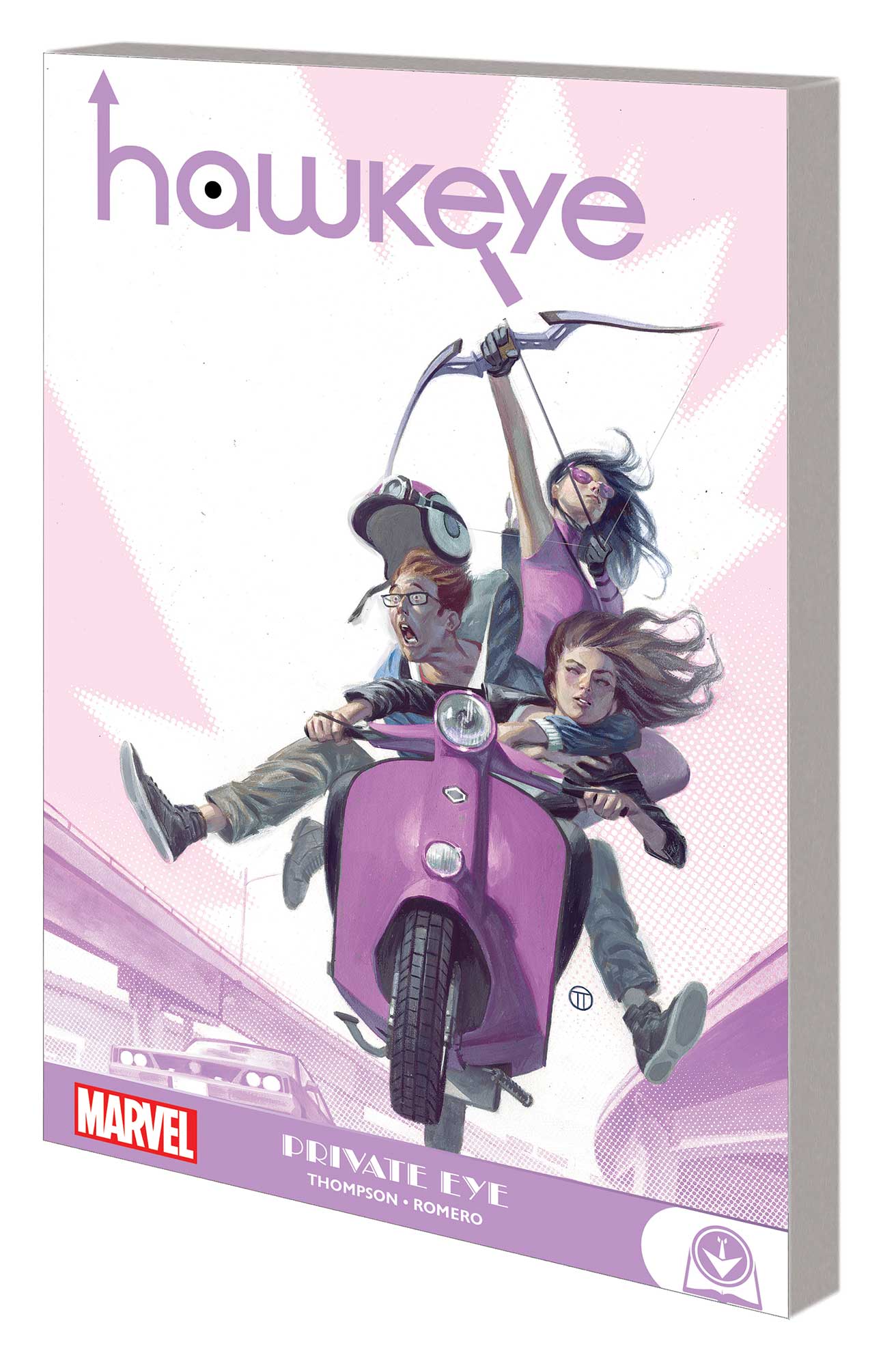 HAWKEYE: PRIVATE EYE GN-TPB
Written by KELLY THOMPSON
Penciled by LEONARDO ROMERO & MICHAEL WALSH
Cover by JULIAN TOTINO TEDESCO
Remember Hawkeye? No, not that Hawkeye — your favorite Hawkeye! The former Young Avenger, the butt-kicking hero who had to save that other Hawkguy all the time and basically keep his life in some semblance of order. Yup, you know her — it's the dazzling Kate Bishop, making a splash in her own solo series as the City of Angels gets a new guardian angel. There are crimes to solve, and she's the best archer to handle 'em! But is she ready to face the ghosts of her past? This is Kate Bishop as you've never seen her before, in a stirring saga that really hits the mark! Collecting HAWKEYE (2016) #1-12.
288 PGS./Ages 10 & Up …$12.99
ISBN: 978-1-302-91795-1
Trim size: 6 x 9

Periodista especializado en cómic, actualmente ejerzo de editor de la web oficial de la editorial Panini Comics en España. Además soy profesor universitario, en el Grado de Comunicación Audiovisual de la Universitat de València, donde imparto la asignatura "Teoría del Cómic: Géneros y tendencias"; también imparto clases en varios módulos de los Ciclos Formativos de Imagen y Sonido.